Paul Bissonnette appealing 10-game suspension for illegal line change
Paul Bissonnette was given an automatic 10-game suspension for leaving the ice to join an altercation but he's still going to appeal.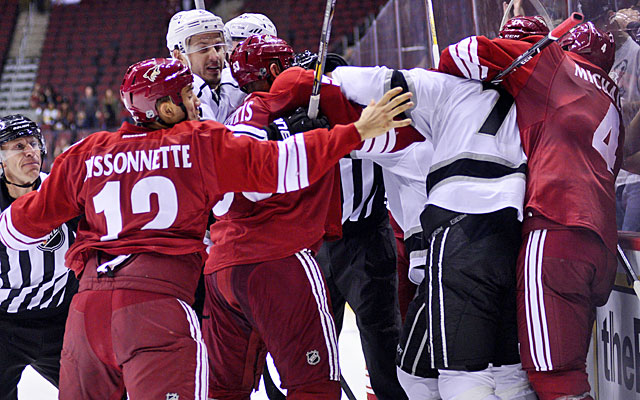 More NHL offseason: Rumors | Top 50 Free Agents | Buyout Tracker | Trades | Transactions
Earlier this week Phoenix Coyotes forward Paul Bissonnette was handed a 10-game regular-season suspension. It was an automatic ruling given the fact that he made an illegal line change to join an altercation.
Bissonnette is hoping it's not so automatic after all. The Coyotes enforcer and Twitter superstar is appealing the suspension.
It's not really clear what kind of legs Bissonnette has to stand on, especially since video of the incident hasn't been spread. Tensions were ramped up in the exhibition game with the Kings after Jordan Nolan leveled Phoenix's Rostislav Klesla with an open-ice hit (deemed legal by the NHL upon review) that resulted in a concussion for Klesla. Not long after, a scrum developed on the ice and Bissonnette found himself in the middle of it.
The thing about a ruling such as this is there isn't much room for ambiguity. Either the player he was supposedly replacing in a line change was still on the ice or not. In this case it was believed to be rookie Max Domi. Domi was still on the ice when Bissonnette was out there.
Given what we know of the incident, it's really tough to imagine that BizNasty is going to get out of this suspension, even with external arbitrators being used upon appeals in the new CBA. I guess he'll just have to continue with his grassroots T-shirt campaign.
Show Comments
Hide Comments
Our Latest Stories
From the Caps' goaltender to the star-studded headlining duo of Chicago's offense, these guys...

Scoring his 41st goal of the year in a 3-1 win over the Buffalo Sabres, the Pittsburgh Penguins...

A nightmare comes to life with Gary Bettman downplaying the idea of sending NHL stars to South...
The resurgent Lightning are primed to sneak into contention, while the once-hot Islanders are...

Capitals are first team to earn a playoff berth, but the Blackhawks are the hottest of the...

Earning their 100th point of the year in a big win over Tampa Bay, the Caps set the stage for...