Paul MacLean signs three-year extension to stay as Senators coach
Paul MacLean, who won the Jack Adams Trophy as the NHL's top coach, has signed a three-year extension with the Ottawa Senators.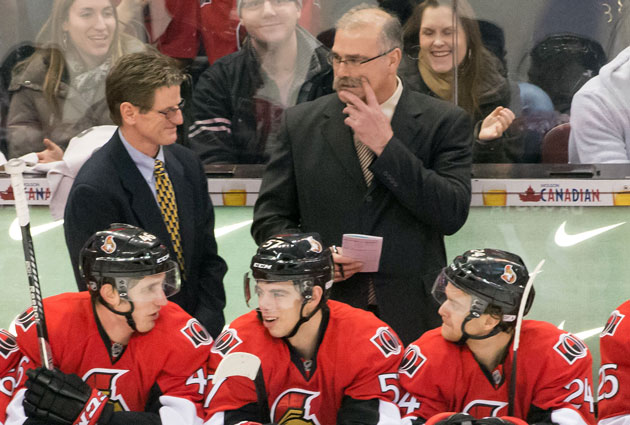 More NHL offseason: Rumors | Top 50 Free Agents 
While teams are preparing to sign free agents, the Ottawa Senators were busy re-signing their coach, Paul MacLean. The team announced on Thursday that MacLean has signed on for three more seasons.
And why not? MacLean has had a lot of success with Ottawa. The Sens made the playoffs in each of the past two seasons despite low expectations in Year 1 and being ravaged by injuries in Year 2. The Senators making the playoffs this season with their injury issues was enough to land MacLean the Jack Adams Trophy as the NHL's top coach.
He was dealt a difficult hand with so many injured stars, but he was able to guide the Sens along while they brought up a lot of fresh faces. Of course, it helped having Craig Anderson in net. At this point, we're all waiting to see what MacLean can do with a healthy roster. We should get to find out assuming that nasty injury bug stays away.
Overall, MacLean has a 66-48-16 record with the Senators in his two seasons and the two postseason appearances. This season, they upset the second-seeded Montreal Canadiens in the first round before bowing out to the Penguins in Round 2.
MacLean deserves the extension on merit -- that's not in question -- but that mustache could get an extension by itself. It was part of two of my favorite stories of the season, when a fan with the same mustache sat right behind the Senators' bench. Then it also led to MacLean being called a "bug-eyed fat walrus" by Montreal's Brandon Prust in the playoffs. It all went to show that not only is MacLean a good coach, he's quite the quote, too.
Show Comments
Hide Comments
Our Latest Stories
Bovada sets the number for trades; will Kevin Shattenkirk and Gabriel Landeskog be among t...

Another pre-deadline trade goes down, and this time it's for some late-season offense

Three of the last 10 Stanley Cup winners welcomed new coaches during their championship se...
Pittsburgh gets the help it desperately needs, while Carolina keeps stockpiling future tal...

Aramark, Heinz Field's food provider, is featuring a face-off of city-inspired dishes for Saturday's...

Once the most favored potential Stanley Cup winner, Chicago has fallen behind Washington,...