Pavel Datsyuk on new Russian law: 'I'm an orthodox and that says it all'
Pavel Datsyuk was asked about a fellow Russian athlete's take on the country's homophobic laws, saying that him being Orthodox says it all.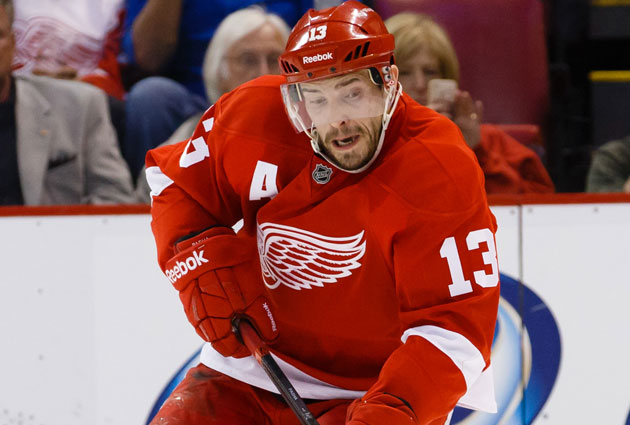 More NHL offseason: Rumors | Top 50 Free Agents | Buyout Tracker | Trades | Transactions
The focus on Russia's new laws against homosexual propaganda won't go away. With the Olympic Games in Sochi, Russia this February, it has been a popular topic and something that many players have railed against.
Completely quiet on this matter have been Russian NHL players. They have stayed mum in both directions, simply choosing not to comment. Pavel Datsyuk did that in a way while still saying something to cause a stir.
When the Red Wings star was asked about the comments from Russian pole vaulter Yelena Isinbayeva (she said foreigners should respect the laws of Russia when in Russia), Datsyuk offered up a comment in the form of a no comment.
Pavel Datsyuk on Yelena Isinbaeva words regarding anti-gay law: 'I'm an orthodox and that says it all'

— Igor Eronko (@IgorEronko) August 22, 2013
And with that the firestorm was set.
To be clear, the Russian Orthodox church has let its stance on homosexuality be known before. It's not one of acceptance or tolerance.
So there have been many people who have jumped to the conclusion that Datsyuk is homophobic. He might or might not be, I don't know. It's just as likely that Datsyuk simply does not want to speak out against his church or to say something that would get him in hot water in Russia. To jump to a conclusion either way on that small quote is irresponsible.
We (I use that loosely) are asking a lot of athletes to weigh in on some serious conversations right now, one that many of them don't want to weigh in on. It's news in the political world right now but that doesn't mean that hockey players should be forced to share their beliefs with everybody just because they play hockey for a living. Just the same as people want to have freedom to do whatever they want to do in their own bed room, that same approach should be extended to athletes' views on real-world issues, shouldn't they, especially when they are not spokesmen for such things as the You Can Play Project? By simply being asked that question Datsyuk is in a no-win situation; he supports the anti-gay laws and he is hammered in North America, he supports gay rights and he's in trouble in Russia.
Russian players especially are in a tough spot on this issue and it's probably largely why they have remained mum on it while the NHL has formed a partnership with You Can Play to put an end to homophobia in hockey (and sports as a whole).
With all this talk it does almost make you forget that they will play hockey in Sochi.
Show Comments
Hide Comments
Washington and Pittsburgh figure to go neck and neck, as do Anaheim and Edmonton

Cassidy went 18-8-1 after replacing Claude Julien in 2016-17

With the playoff field cut in half, the stakes keep getting raised
Green has led Vancouver's AHL affiliate since 2013

Series schedules, results and updates from the second round of the Stanley Cup race

Here's how to stay on top of all of the NHL's second-round playoff series, which begin Wed...