Pavel Datsyuk still plans to play in Sochi, Wings respect decision
Pavel Datsyuk hasn't played for the Red Wings since the Winter Classic but he plans to play for Russia, a decision the Wings will respect.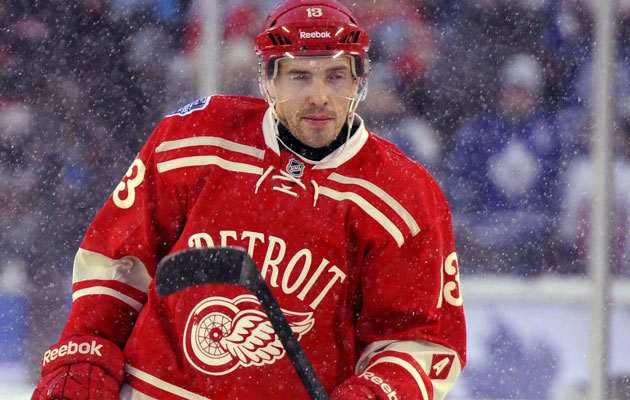 More NHL: Scores | Standings | League Leaders | Odds | Injuries | Power Rankings
When Pavel Datsyuk left the Detroit Red Wings lineup because of a lower-body injury, the initial estimates were that he wouldn't be out long and it wasn't serious. Now it has been more than a month since Datsyuk last played, in the Winter Classic.
The timing is such that it's raising some question about Datsyuk's availability for the Olympics that start in less than two weeks in Sochi, Russia. Datsyuk, by the way, is not only one of Russia's top forwards and threats but the host nation's captain. So yes, him playing in the Olympics is a big deal.
And even if Datsyuk doesn't play before the Olympic break hits, he's still most assuredly ging to play for Russia. Red Wings GM Ken Holland won't try to get in the way.
From Steve Simmons of the Toronto Sun:
"I don't believe I have the authority or the power to prevent someone from going to the Olympics," said Ken Holland, the Red Wings general manager. "That's the player's call. When it comes to Pavel Datsyuk, I certainly understand the special opportunity he has, representing his country in his homeland, to be captain, to maybe win a gold medal in your home country, that will be with you for the rest of your life."
Holland continued:
"Am I worried?" said Holland. "Of course, I'm worried. But I understand what an opportunity this is for every Russian and every other player. Pavel has a decision to make and I understand that it's his decision and I respect that its his decision."
This here is the tough spot that general managers are put in with the Olympics. Holland is clearly understanding and while he certainly doesn't seem to love the situation, he at least understands.
It's a reasonable concern to be worried about Datsyuk pushing a return just to play in the Olympics, certainly a worthwhile goal for any player. Holland (and other GMs) are pretty helpless if a player is dead set on playing in the Olympics.
Datsyuk has 15 goals and 17 assists this season in which he has been limited to 35 games with this lower-body injury and a concussion that cost him seven games earlier this season.
S/t PHT
Pittsburgh also has been linked to Matt Duchene and could be in the mix for Tyler Bozak

Nashville extends its 24-year-old restricted free agent with what could be bargain numbers

Calgary forward is all for playing for the Flames, but he also likes the idea of going to...
Plans for renovating KeyArena are now also being overseen by NHL-to-Seattle hopefuls

With Leslie Anderson selling the Rockets, there is newfound hope for hockey in Houston

Pittsburgh Penguins' repeat Conn Smythe Trophy winner has more than hockey on his athletic...