Penguins tabbed favorites for 2014 Stanley Cup; Blackhawks second
Odds are already out for next NHL season. The Penguins are the favorite to win the Cup at 13-2 while the Blackhawks are at 15-2.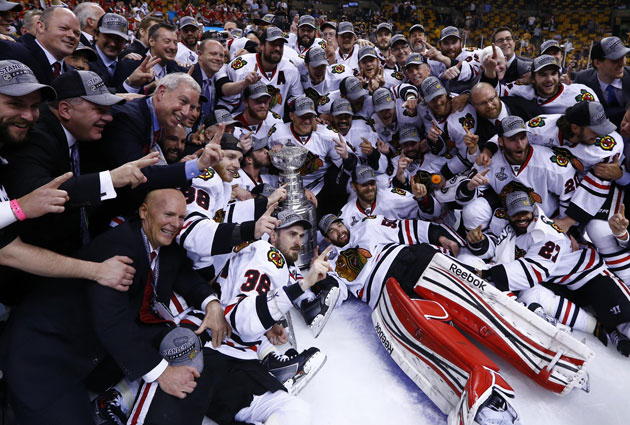 More NHL Playoffs: Scores | TV Schedule | Expert Picks | Odds | Mock Draft | Rumors
It hasn't even been 24 hours since the Chicago Blackhawks won the Stanley Cup yet the odds are already out for next year from Bovada.
Perhaps it's a surprise that the champs aren't at the top of the betting line. Instead, the Blackhawks are second with 15-2 odds to repeat. While they don't have a complete tear-down coming their way as they did after winning the 2010 Stanley Cup, they do have some decisions to make.
Instead, it's the Pittsburgh Penguins once again tabbed as favorites. They have been given 13-2 odds, but they, too, have many questions to answer this upcoming offseason. Specifically, what is going to happen with their best defenseman,  Kris Letang . That's an awfully big variable for a team tabbed as the favorites.
The Eastern Conference champion Bruins get the third-best odds at 9-1. They figure to have a pretty similar roster coming back, though Nathan Horton might be leaving as he's a free agent and the Bruins are very short on cap space.
Oh, and how about them Panthers? They have the worst odds by far at 100-1. No other team has odds worse than 50-1. So, yeah, might be another long season coming for Florida.
The full odds from Bovada:
Pittsburgh Penguins 13-2
Chicago Blackhawks 15-2
Boston Bruins 9-1
St. Louis Blues 12-1
Los Angeles Kings 14-1
Vancouver Canucks 14-1
Detroit Red Wings 16-1
New York Rangers 16-1
San Jose Sharks 16-1
Anaheim Ducks 20-1
Toronto Maple Leafs 25-1
Washington Capitals 25-1
Montreal Canadiens 28-1
Carolina Hurricanes 33-1
Edmonton Oilers 33-1
Minnesota Wild 33-1
New York Islanders 33-1
Ottawa Senators 33-1
Philadelphia Flyers 33-1
Colorado Avalanche 40-1
Columbus Blue Jackets 40-1
Nashville Predators 40-1
New Jersey Devils 40-1
Tampa Bay Lightning 40-1
Winnipeg Jets 40-1
Buffalo Sabres 50-1
Calgary Flames 50-1
Dallas Stars 50-1
Arizona Coyotes 50-1
Florida Panthers 100-1
Show Comments
Hide Comments
Some say that bat still hasn't landed

Fans will have a tough choice to make in AHL team's presidential promotion

Lucic signs with Oilers, Okposo goes to Buffalo, Bruins land Backes
The NHL commissioner continued to deny a causal link between concussions and CTE

The 2015-16 season was interesting in a lot of ways. We look back at the Final NHL Power R...

Chicago will make the Harvard standout's shortlist, per his agent