Peter Mueller signs one-year deal with club in Switzerland
Peter Mueller apparently had no options -- or good options at least -- in the NHL so he's headed to Switzerland on a one-year deal.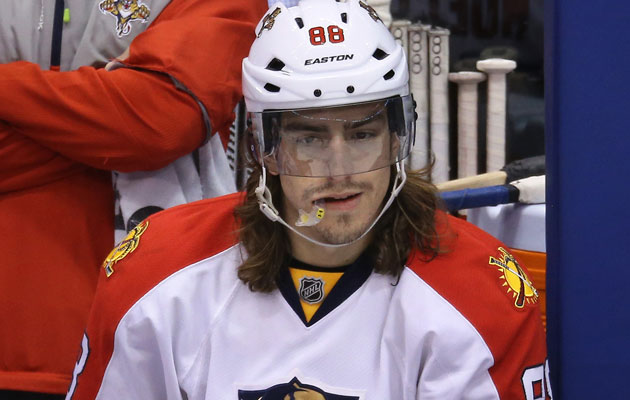 More NHL offseason: Rumors | Top 50 Free Agents | Buyout Tracker | Trades | Transactions
Last year, Peter Mueller landed a one-year deal late in free agency from the Florida Panthers to try and prove he was back to form after years of injury issues.
One summer later, Mueller was unable to land another NHL spot and is instead headed overseas.
Peter Mueller signed 1-year contract with #Kloten of Swiss #NLA per official release #Panthers

— Igor Eronko (@IgorEronko) September 6, 2013
It's mildly surprising that Mueller couldn't find a gig on the cheap in the NHL, he had a decent return to the ice this past season playing for a dreadful Florida team. He started the year pretty strong but finished with a whimper, scoring just two goals and six assists in the last 23 games of the season. In total he finished with eight goals and nine assists. Great numbers hardly but remember that he didn't have a ton of help around him and that he's still young at 25 years of age.
At the same time it's another illustration of how this summer in particular is putting the squeeze on the lower tier free agents. If nothing else you'd think he could have fetched a two-way deal with a shot to earn a position with a big club but it's not in the cards. A few players might be following his lead, possibly even Damien Brunner while he waits for a contract in the NHL.
Mueller was an unrestricted free agent because the Panthers failed to send him a qualifying offer, before that he was a restricted free agent. He signed with Florida after a couple of short seasons in Colorado. In 2011-12 he had seven goals and nine assists in 32 games for the Avs. His best season came as a rookie in Phoenix when Mueller had 22 goals and 32 assists.
By the way, Kloten also signed defenseman Jim Vandermeer, who last played for the Sharks in 2011-12.
Show Comments
Hide Comments
Series schedules, results and updates from the second round of the Stanley Cup race

Here's how to stay on top of all of the NHL's second-round playoff series, which begin Wed...

Series schedules, results and updates from the first round of the Stanley Cup race
Ottawa took a 3-2 decision to send Boston home, and Washington outlasted Toronto, 2-1

Stevens was L.A.'s interim coach for four games in the 2011-12 season

St. Louis, New York and Edmonton eked out victories that eliminated Minnesota, Montreal and...