PHOTO: Barclays Center hockey rink is not an ideal layout
The Islanders are moving into the Barclays Center in Brooklyn in the near future, but it's not ideal for hockey, and we can see that now.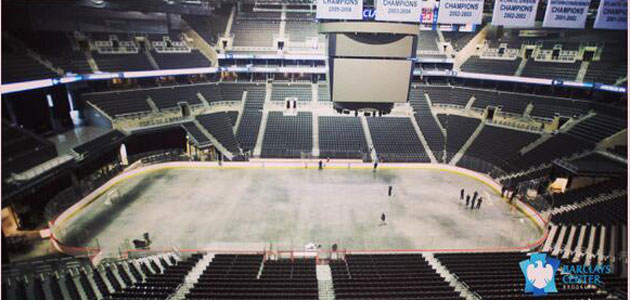 More NHL Playoffs: Scores | TV Schedule | Expert Picks | Odds | Mock Draft | Rumors
The New York Islanders will be moving to Brooklyn in the near future, leaving Nassau County after failing for years to get a new arena. They will take residence in the new Barclays Center in Brooklyn, an arena that was designed first and foremost for the NBA's Nets.
The Isles decided they will make the move despite the fact that the arena isn't laid out well for hockey. How poor? Just take a look at the photo Barclays Center tweeted on Tuesday (above).
Now you see why the arena will have the smallest capacity (14,500) in the league when the Isles officially make it their home. The rink nearly eliminates one end zone, so there will be nobody sitting behind the net at one end of the rink (to clarify, that means on the lower level of the arena as Barclays Center and the Nets pointed out there are seats behind the net). Not to mention that it leaves the scoreboard off-center, hanging above a blue line instead of the red line.
Still, that was preferential to continuing to play in the outdated Coliseum.
It's a bit reminiscent of the Coyotes playing in Phoenix's America West Arena when they first came into existence and also what it might look like if Seattle were to get a hockey team in Key Arena.
Show Comments
Hide Comments
Series schedules, results and updates from the first round of the Stanley Cup race

St. Louis, New York and Edmonton eked out victories that eliminated Minnesota, Montreal and...

Fresh off the Predators' sweep of the Blackhawks, Gnash is fired up for his team
A tougher opponent awaits either Toronto or Washington, and the Bruins hung on to beat Ott...

Linesman Don Henderson is reportedly seeking $10.25 million in damages from a January 2016...

Two of the NHL's top four teams of 2016-17 are out of the playoffs