PHOTO: Brandon Saad bobblehead isn't the best you'll see
Sunday was Brandon Saad bobblehead day in Chicago and, well, if they didn't tell you it was Brandon Saad, you probably wouldn't have known.
More NHL: Scores | Standings | League Leaders | Odds | Injuries | Power Rankings
Sundway wasn't only a rematch of the Stanley Cup Final from last season in Chicago, it was also Brandon Saad bobblehead day for the crowd at United Center. Or at least that's who was said to be on the bobblehead giveaway.
Without his name at the bottom or the No. 20 on the helmet and jersey, it was kind of hard to tell.
The Brandon Saad bobblehead may or may not be wearing makeup. pic.twitter.com/bfImACRx22

— Nina Falcone (@NinaFalcone) January 19, 2014
That's quite the shade of pink on Saad's lips there and Saad is looking pretty tan these days. Not to mention the lack of a visor.
For comparison's sake, here's a side by side: real Brandon vs. Bobblehead Brandon.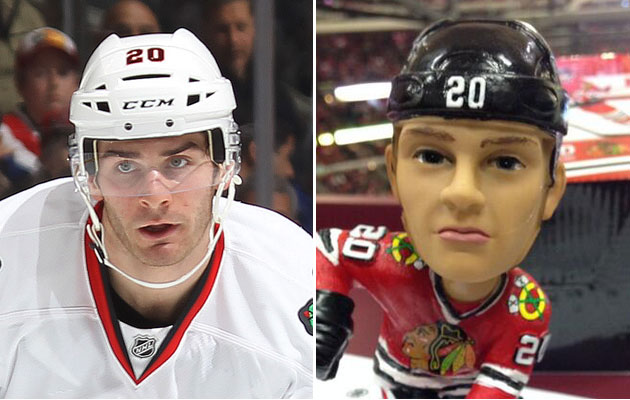 Hey, these aren't always perfect (just ask Alfie) and Saad should give the Blackhawks bobblehead makers plenty of time to take another crack.
Show Comments
Hide Comments
With the playoff field cut in half, the stakes keep getting raised

Green has led Vancouver's AHL affiliate since 2013

Series schedules, results and updates from the second round of the Stanley Cup race
Here's how to stay on top of all of the NHL's second-round playoff series, which begin Wed...

Series schedules, results and updates from the first round of the Stanley Cup race

Ottawa took a 3-2 decision to send Boston home, and Washington outlasted Toronto, 2-1