PHOTO: Cam Talbot's Ghostbusters mask takes on baseball theme
Cam Talbot's mask for the Stadium Series still has the Ghostbusters theme but now they're playing baseball.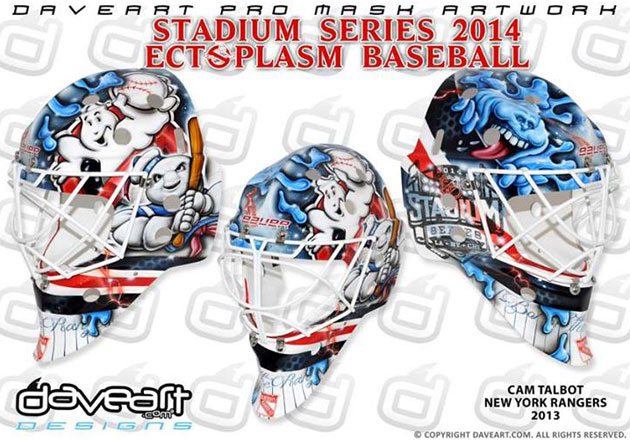 More NHL: Scores | Standings | League Leaders | Odds | Injuries | Power Rankings
Like all of the goaltenders taking part in the Stadium Series, New York Rangers backup Cam Talbot has a special mask that he will wear just for the game in Yankee Stadium, adapted to fit the environment.
Talbot's special mask will keep the Ghostbusters theme that made his so popular when he was called up by the Rangers but with a few special touches included. The ghost in the middle of the Ghostbusters logo has a baseball and the Stay-Puft Marshmallow man is due up.
Slimer remains on the opposite side but he's not doing much unless you want to say he's helping the ghost throw his version of a vaseline ball -- a slime ball? The chin has the Yankees represented too with their iconic pin stripes. Dave Gunnarsson hit another home run.
There'a a good chance we could see this mask on the ice as well. The Rangers will be playing two games at Yankee Stadium, one against the Islanders and one against the Devils. Maybe coach Alain Vigneault will split the starts and give Talbot one of the games. Here's hoping because that mask deserves to get some air time.
Show Comments
Hide Comments
Our Latest Stories
On day he signs entry-level deal with Canucks, Boeser scores Vancouver's third goal in 4-2...

The Penguins' leader in highlight reels has been extra feisty on some cringe-worthy cheap shots...

2017 SAHP NHL Global Series will pit Ottawa and Colorado against each other in Stockholm
Finland has churned out some winners in a league filled to the brim with diverse players

From the Caps' goaltender to the star-studded headlining duo of Chicago's offense, these guys...

Scoring his 41st goal of the year in a 3-1 win over the Buffalo Sabres, the Pittsburgh Penguins...