PHOTO: Cory Schneider's mask complements Millionaires jersey
When the Vancouver Canucks dress as the old Vancouver Millionaires for a March 16 game against the Red Wings, Cory Schneider will fit right in with a new mask.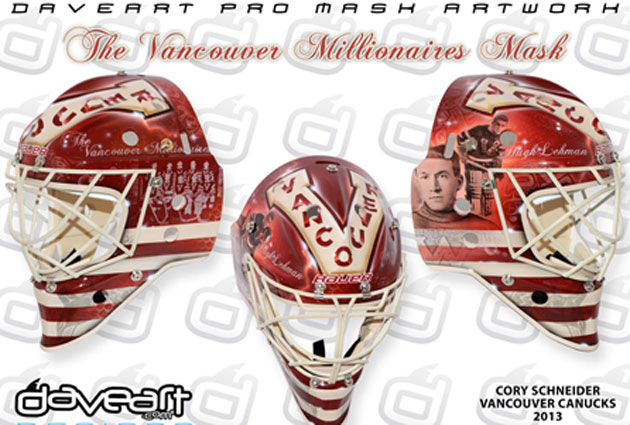 More NHL: Scores | Standings | Odds | Fight-O-Meter | League Leaders | Rumors
The Vancouver Canucks will be taking on the Detroit Red Wings on March 16 dressed as the old Vancouver Millionaires, and Cory Schneider has all but guaranteed he'll get the start.
Not that that was Schneider's intention necessarily, but he had a new mask commissioned to go with the Millionaires jersey and it's pretty spectacular. He'll fit right in with a mask in the same colors as the jersey including the big V logo on the top of the mask.
As he usually does, Schneider went to mask artist extraordinaire Dave Gunnarsson for the design. Here is some of what he wrote on his website with the announcement of the latest mask:
On a distance it's an old school classic styled design with the stripes in focus with the beautiful logo on the top, all created in maroon and cream colors.

Then the closer you come the more details you will discover, and the design transforms in front of your eyes to a tribute to the fantastic Millionaires team. On the left side is a tribute to the legendary Millionaire goalie Hughie Lehman, and on the other side is the whole team in old school vintage style.

And not only that, the mask is also a tribute to the fantastic native art of Canada. I just love that art style. Just as on Cory's previous Canucks mask I incorporated orcas in Canadian native art style, and they continue on this mask.
One word: fantastic. The mask itself might be better than the jerseys, and that's saying something.
Hey, if a guy goes through all that trouble then the least coach Alain Vigneault can do is let Schneider play that night. Nothing ruins a retro jersey night worse than a goalie mask and/or pads that don't fit in. The Canucks' blue-and-green scheme of today would be a sore thumb on that classic maroon and cream design.
The Canucks have been using both Schneider and Roberto Luongo almost equally, so it's not like it's a decision that couldn't have happened regardless. This will probably just make the decision a little easier for Vigneault.
The Canucks are wearing the jerseys to honor the Millionaires, who won the Stanley Cup in Vancouver way back in 1915.
More from Eye on Hockey:
Canucks unveil Millionaires jersey for March 16 game
S/t to InGoal Magazine
For more hockey news, rumors and analysis, follow @EyeOnHockey and @StubitsCBS on Twitter, subscribe to our YouTube account and like us on Facebook.
Show Comments
Hide Comments
Our Latest Stories
Senior Tony Bruns set a state and national record on a day his team wishes to forget

Crosby won't have to pass the torch for a while, but McDavid is proving to be a worthy hei...

The new contract won't end the Trouba trade rumors, though
Plus, four other teams whose hot starts make them tougher to project

After his emotional performances this week, Anderson has taken an indefinite leave of abse...

The Penguins goalie situation is back to normal with Murray's return from a broken hand