PHOTO: Czech Republic's Olympic sweaters released
Next up on the Olympic sweater release; the Czech Republic. Like the Americans and Canadians, they have the faux laces.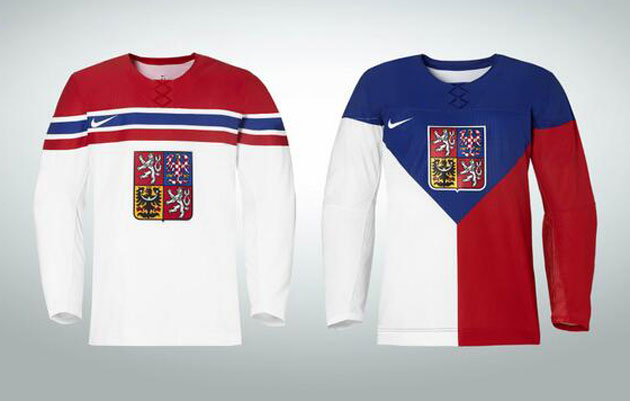 NHL previews: Atlantic Division | Metropolitan Division | Central Division | Pacific Division
Nike's assault on Olympic hockey asthetics continued on Monday with the release of the sweaters for the Czech Republic's team in Sochi next February.
Just like the American and leaked Canadian sweaters, the Czechs can't escape the wrath of the faux sweater laces at the top. This pandemic has gone international (why it ever went anywhere in the first place is beyond me). That's the first takeaway I have.
As to the actual sweaters, well one is simply the Czech flag if it were hanging in the rafters with the country's seal over top of it. I admit I kind of like that one as crazy as it is but I also readily admit I have a terrible sense of fashion. The other sweater, the one that's predominantly white, has a real Norwegian appeal to it more than Czech, doesn't it? At least at the top, the seal returns it to a Czech flavor down the line. All in all, still not terrific, I just can't get past the "laces."
Normally I would bemoan the fact that the Olympic hockey tournament comes and goes too quickly but with the uniforms that Nike has churned out, I don't think I'll mind it leaving the scene so soon.
S/t to Pavel Barta
Russian outlets suggest Olympic participation is still on the table, but NHL has repeatedly...

Buffalo's forward suits up in Da Beauty League as he prepares to return to Sabres in 2017-...

Penguins goalie shows support for Thunder Bay's Gavin Currie
Sports Illustrated's 2017 ranking puts the two hockey stars in the top 15 of stylish athle...

The former Blues and Capitals defenseman will wear No. 22 in the Big Apple

New York's captain appears set to play out the final year of his contract in 2017-18