PHOTO: Fan protests at Oilers HQ with 'Kevin Lowe Must Go' sign
An Oilers fan parked across the street from the Edmonton Oilers offices this week with a silent protest sign on a trailer: Kevin Lowe Must Go.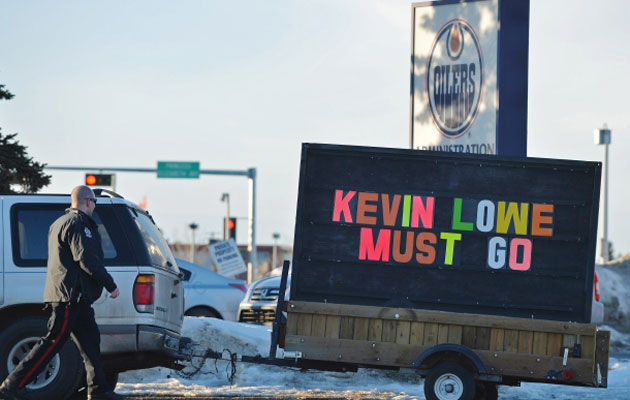 More NHL: Scores | Standings | League Leaders | Odds | Injuries | Power Rankings
Edmonton Oilers owner Daryl Katz sent a letter to fans this week urging them to remain patient amid this longer-than-expected rebuilding process. It was an attempt to pacify an increasingly upset fan base that is tired of being at the bottom of the Pacific.
In the letter Katz specifically identified President of Hockey Operations Kevin Lowe as somebody the fans should back off of and put a little more faith in. He's an Oilers legend and has a pedigree that includes working with Hockey Canada, so you know, he must be doing things right.
However the fans in Edmonton aren't backing down as the Oilers found out on Tuesday outside their team offices. Oilers fan Bill Day parked his car across the street with a trailer in tow that read in colorful letters "Kevin Lowe Must Go." He was soon visited by the police after a call from the Oilers.
According to the Edmonton Journal, police visited in the middle of the three-hour long silent protest but left without issuing a ticket. Day promised he'd be back with a different target for his protests in mind.
Day, who describes himself as a Tier 2 Oilers fan -- a reference to Lowe's infamous "We have two types of fans" remark in response to a question from Journal sports columnist John MacKinnon last April -- plans to target Oilers owner Daryl Katz with a sign tomorrow. "He's a poor owner of the team," he said.
Peter Pocklington, Katz; the Oilers don't always get the most invested owners, do they?
If anything the letter that Katz sent out earlier this week is only going to make the disgruntled Oilers fans angrier. Telling them to continue to bear with a process that has led to what is about to be eight straight seasons without a playoff spot -- and worse recently is they haven't even been close -- isn't going to soothe the masses as much as remind them of their frustrations.
Good times in Edmonton, good times.
S/t Puck Daddy
Pittsburgh sits atop them all as the repeat champs, while Nashville rises up after its big...

Islanders could also be loading up for scoring talent, and Vegas has plenty of D-men to se...

Fired by Dallas this offseason, Ruff is expected to replace Jeff Beukeboom
Even without a can't-miss prospect, the first round features a handful of solid center pic...

Casey Mittelstadt goes off the board in the top 10 picks of the 2017 NHL Entry Draft

New Jersey makes the Halifax Mooseheads star the first overall selection in this year's dr...