PHOTO: Henrik Lundqvist's special mask depicts Ruth, Gehrig, DiMaggio
Henrik Lundqvist has a special mask for the games at Yankee Stadium featuring the likenesses of Babe Ruth, Lou Gehrig and Joe DiMaggio as well as pin stripes.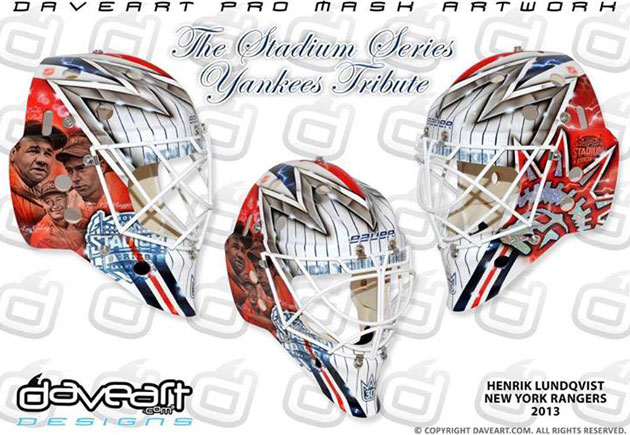 More NHL: Scores | Standings | League Leaders | Odds | Injuries | Power Rankings
With the Winter Classic now behind us, we can turn our attention to the plethora of outdoor games to come as part of the Stadium Series. Two of those games will feature the New York Rangers playing at Yankee Stadium, once against the Islanders and once against the Devils.
Rangers goaltender Henrik Lundqvist will be properly dressed for the occasion. To top his chromed out uniform that all his teammates will be wearing, Lundqvist will have his special mask for the games that keeps his traditional Rangers design but brings in some of that Yankee mystique.
Specifically, the mask painted by Dave Gunnarsson incorporates not only the famous Yankee pinstripes in the center of the cage but has the likeness of Babe Ruth, Lou Gehrig and Joe DiMaggio.
Henrik wanted to pay tribute to the fantastic Yankees of New York and have a clear baseball connection on the mask with portraits of legendary Yankees players. I loved the idea!

Henrik and me started to brainstorm and setup a plan how to create it.

The crestion is a mix of Henrik's crisp designs, and a NewYork Rangers theme mixed with the passion of Yankees.
That mask is incredible.
I won't be confused for a Yankees fan but that is an awesome mask and is so appropriate given the setting for the game. Kudos are in order for Gunnarsson and Lundqvist, who I thought never had the best mask designs around. This one is a home run.
Show Comments
Hide Comments
Ottawa took a 3-2 decision to send Boston home

Series schedules, results and updates from the first round of the Stanley Cup race

Stevens was L.A.'s interim coach for four games in the 2011-12 season
St. Louis, New York and Edmonton eked out victories that eliminated Minnesota, Montreal and...

Fresh off the Predators' sweep of the Blackhawks, Gnash is fired up for his team

A tougher opponent awaits either Toronto or Washington, and the Bruins hung on to beat Ott...