PHOTO: Ice is down at Barclays Center in Brooklyn for Islanders
The ice is down for the first time at the Islanders' future home in Brooklyn.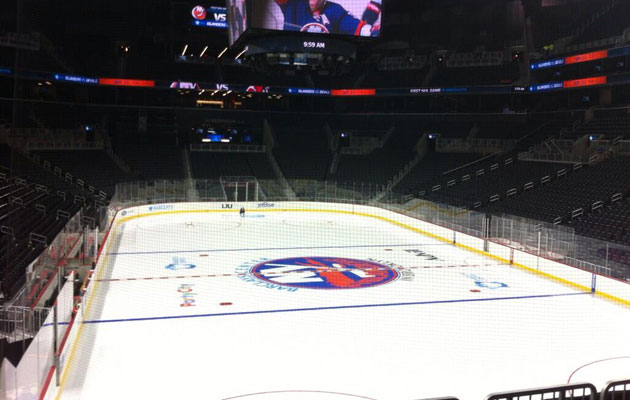 More NHL offseason: Rumors | Top 50 Free Agents | Buyout Tracker | Trades | Transactions
The New York Islanders are still calling Nassau Coliseum home but they're getting ready to move on down to Brooklyn and inhabit Barclays Center in a couple of seasons. They figured they'd get acquainted now so they opened camp in the borough.
The first hockey game will be played at the arena on Saturday the 21st when the Islanders host the Devils, so the ice is down. This is a little more noteworthy than every other team laying down ice because, you know, we've never actually seen it before in Brooklyn and there were concerns the layout would be awful.
While it isn't any different with the ice down compared to just the rink layout, it sure looks different, and by different I mean better. And look, the logo is still blue and orange, not black and white. There's the big scoop.
Keep in mind in that photo above it's being taken from the vantage point of the end zone that sits above the goal, you can see the railing just in front of the camera. The near side in that picture is where the configuation has to take an unconventional turn.
They also have their locker room already, too.
What #Isles locker room will look like in 2015 pic.twitter.com/doNlvdIwQ3

— Brian Compton (@BComptonNHL) September 12, 2013
Another shot of #Isles locker room pic.twitter.com/9rvdrpJ1uU

— Brian Compton (@BComptonNHL) September 12, 2013
Sure looks more inviting than the Coliseum, doesn't it? I mean I understand nostalgia for old buildings but sometimes it's nice to upgrade.
Show Comments
Hide Comments
Our Latest Stories
Team Europe will be without one of their top forwards against Canada

Try not to look him directly in the eyes

Canada and Europe will meet for the second time in the tournament, this time with everything...
The Bruins have their high-scoring, opponent-agitating winger locked up long term now

The team no one gave a chance is moving on to the World Cup's championships series

Defense prospect Patrick Sieloff drew the ire of his teammates after his hit on MacArthur