PHOTO: Ilya Bryzgalov has a new, incredible 'Star Wars' mask
Ilya Bryzgalov loves space so much he now has a 'Star Wars' mask. In related news, he has the coolest mask in the NHL.
More NHL: Scores | Standings | Odds | Fight-O-Meter | League Leaders | Rumors
Philadelphia Flyers goaltender Ilya Bryzgalov is a man who loves space, in case you haven't gotten that message already. He thinks about the universe, he dressed up as a cosmonaut and he ponders meteors that come crashing down in his home country.
He loves space so much, in fact, that he got a new mask that features ... Star Wars.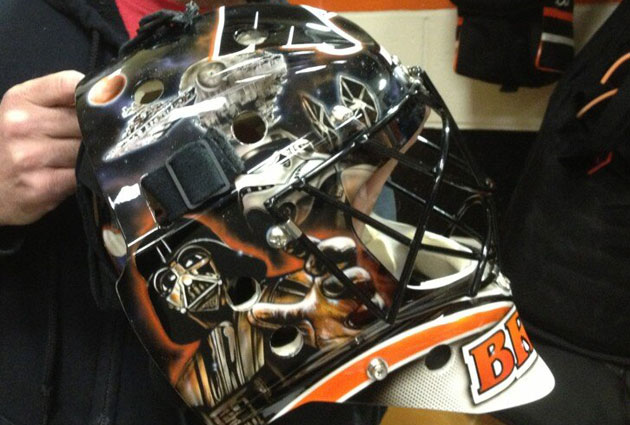 HOW. AWESOME. IS. THAT!?
Star Wars geeks (and I say that fondly as I consider myself to be one, albeit mildly), if you don't have a new favorite player then I don't know what to tell you.
What about the other side? Maybe he has a Jedi-like Luke Skywalker to help balance out the good and dark side of the force. Just no Jar-Jar, for the love of George Lucas, please no Jar-Jar.
Nope, no Jar-Jar or Luke. Instead, it's Yoda and R2D2.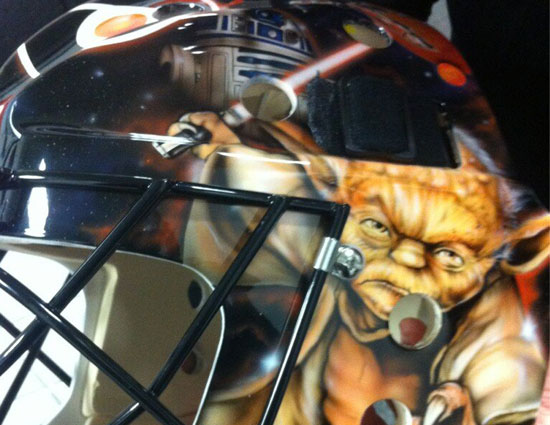 That works out perfectly anyway since Bryzgalov sometimes talks like Yoda. And good choice to go with R2 over C3P0. He rocks.
Bryz, you're the best. Don't ever change.
With this in mind, what should be Bryzgalov's new theme song: The Imperial March or Cantina Band? The latter just sounds so much more Bryz.
Photos via @NHLFlyers
For more hockey news, rumors and analysis, follow @EyeOnHockey and @StubitsCBS on Twitter, subscribe to our YouTube account and like us on Facebook.
Show Comments
Hide Comments
Here's how to stay on top of all of the NHL's second-round playoff series, which begin Wed...

Series schedules, results and updates from the first round of the Stanley Cup race

Ottawa took a 3-2 decision to send Boston home, and Washington outlasted Toronto, 2-1
Stevens was L.A.'s interim coach for four games in the 2011-12 season

St. Louis, New York and Edmonton eked out victories that eliminated Minnesota, Montreal and...

Fresh off the Predators' sweep of the Blackhawks, Gnash is fired up for his team