PHOTO: Indiana corn maze commemorates Blackhawks title
A corn field in Indiana has turned into a shrine for the Blackhawks, one big, confusing and dizzying shrine: a corn maze.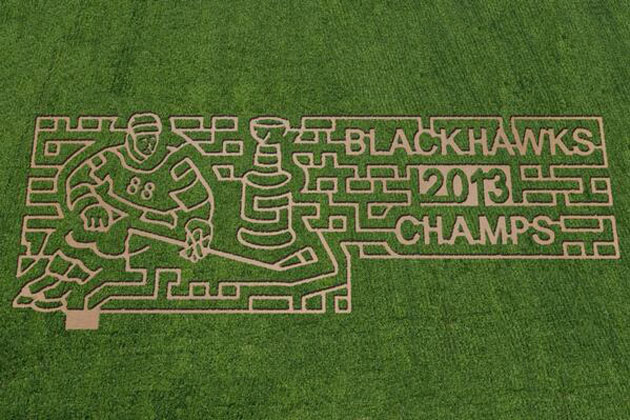 More NHL offseason: Rumors | Top 50 Free Agents | Buyout Tracker | Trades | Transactions
If you were looking to lose yourself to the joy of the Chicago Blackhawks' Stanley Cup championship, now you can. Literally.
Check out this corn maze a fan on the Indiana side of Chicago made -- County Line Orchard in Hobart, Ind. Now you can get away with calling Patrick Kane a cornehead, or any other corny derivative that actually might make sense.
I have no idea what would take longer, constructing this maze with expert craftsmanship -- I can't write anywhere near as straight with a pen and paper as they do with rows of corn -- or trying to get through it. I have a hard time navigating it just with my eyes from up above, imagine being down among the rows and rows of cornstalks. That's how horror movies often start.
Seriously though, that's impressive and really awesome. Hopefully it can stay up as long as possible because that's quite the site.
S/t to Marcus Leshock
Show Comments
Hide Comments
Our Latest Stories
Pittsburgh gets the help it desperately needs, while Carolina keeps stockpiling future tal...

Aramark, Heinz Field's food provider, is featuring a face-off of city-inspired dishes for Saturday's...

Once the most favored potential Stanley Cup winner, Chicago has fallen behind Washington,...
In the first big move before the NHL's March 1 trade deadline, both teams benefit from Stone...

Avalanche center tops the pool of big names dropped in trade rumors this season

Here's how to catch this year's Battle of Pennsylvania featuring the Flyers and Penguins