PHOTO: Jordan Binnington's mask has the Fresh Prince of Bel-Air
Your quest to find the best goalie mask might be over thanks to Jordan Binnington and his love for the Fresh Prince of Bel-Air.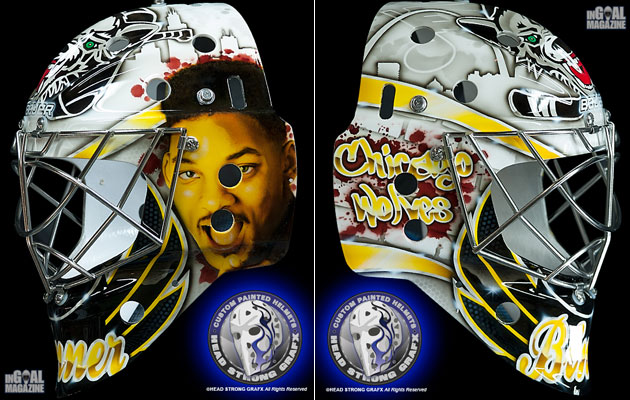 More NHL offseason: Rumors | Top 50 Free Agents | Buyout Tracker | Trades | Transactions
Now this is a story all about how our lives got flipped, turned upside down. I'd like to take a minute, just sit right there and I'll you how a mask came to feature the Fresh Prince of Bel-Air.
Jordan Binnington is a prospect in the Blues organization. Unfortunately that means he's behind Jaroslav Halak, Brian Elliott and Jake Allen and thus is very unlikely to make the NHL this season. But man oh man will he look stylish in AHL Chicago with his Fresh Prince of Bel-Air mask.
Why on earth is a guy playing in Chicago and St. Louis going to have the Fresh Prince who was born and raised in Philadelphia before going to Bel-Air? The answer is WHO CARES?!? But the real answer is the young Binnington is a fan of the show. Of course, who isn't?
The show aired from 1990-96 and Binnington was born in 1993. Still, he came to realize the show was excellent and he's paying tribute to the show and the actor, Will Smith. Here's what he told InGoal Mag.
"Outside of the TV show, from what I see he is a self-driven individual who knows what he wants in life," Binnington wrote InGoal when asked to expand on his mask choice. "I couldn't name one movie I haven't enjoyed with him in it. Every movie or show has a purpose. The tv show is so creative, I'm laughing out loud every episode. So to sum it all up I just feel we'd be best friends."
Clearly Binnington never saw Wild, Wild West but other than that, point taken.
I feel like I say this every time but this is now hands down my favorite mask and there is no way I'm backing off that this time. If anything we could say that this mask is rare ... and awesome.
It makes me want to do this.
You can see more photos of the mask which are Chicago Wolves centric at InGoal. Amazing work by HeadStrongGrafx artist Jason Livery.
S/t to The Score
Show Comments
Hide Comments
Our Latest Stories
Aramark, Heinz Field's food provider, is featuring a face-off of city-inspired dishes for Saturday's...

Once the most favored potential Stanley Cup winner, Chicago has fallen behind Washington,...

In the first big move before the NHL's March 1 trade deadline, both teams benefit from Stone...
Avalanche center tops the pool of big names dropped in trade rumors this season

Here's how to catch this year's Battle of Pennsylvania featuring the Flyers and Penguins

As March draws closer, a number of teams have strengthened their case for a run at the Stanley...