PHOTO: Josh Harding's new mask comes complete with toque
Minnesota Wild goaltender Josh Harding's new mask comes complete with an outdoor hockey look with a painted-on toque. Very sharp.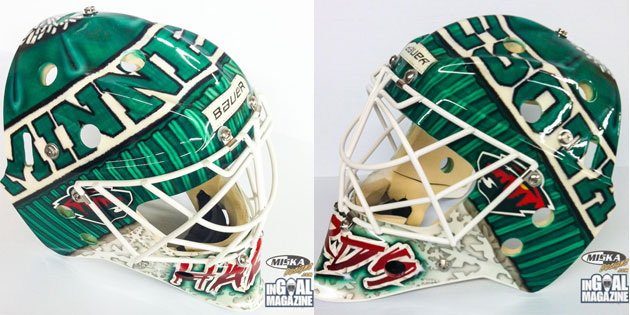 NHL previews: Atlantic Division | Metropolitan Division | Central Division | Pacific Division
Minnesota Wild goaltender Josh Harding must be feeling the NHL's love for outdoor hockey because he's going with an old outdoor look on his new bucket; his helmet this season will be covered by a toque.
Well not really, it's just a painting but it sure looks like a real toque and it sure looks pretty excellent on the top of his helmet. FOr those that don't know, a toque is just a knitted winter hat, essentially a beanie. Players annually sport them during warmups at outdoor games.
The toque mask, complete with the pom-pom on top, was created by Todd Miska of Miska Designs. It's complete with snowflakes and Hards written across the chin. InGoal Mag has more on the mask's creation.
Harding won the Masterton Trophy last season, more or less the NHL's version of the comeback player or a player who persevered through adversity. Harding was diagnosed with multiple sclerosis before last season and only played five games in the regular season. However due to injury to Niklas Backstrom, Harding played all five playoff games for the Wild, putting up a .911 save percentage and 2.94 GAA.
See other goalie masks that have already been released this summer.
Show Comments
Hide Comments
Our Latest Stories
The Penguins' leader in highlight reels has been extra feisty on some cringe-worthy cheap shots...

2017 SAHP NHL Global Series will pit Ottawa and Colorado against each other in Stockholm

Finland has churned out some winners in a league filled to the brim with diverse players
From the Caps' goaltender to the star-studded headlining duo of Chicago's offense, these guys...

Scoring his 41st goal of the year in a 3-1 win over the Buffalo Sabres, the Pittsburgh Penguins...

A nightmare comes to life with Gary Bettman downplaying the idea of sending NHL stars to South...