PHOTO: Kings to wear gold sweaters in special games next season
When the LA Kings have special event nights next season, they will be going way back to their original gold top, purple pants uniforms.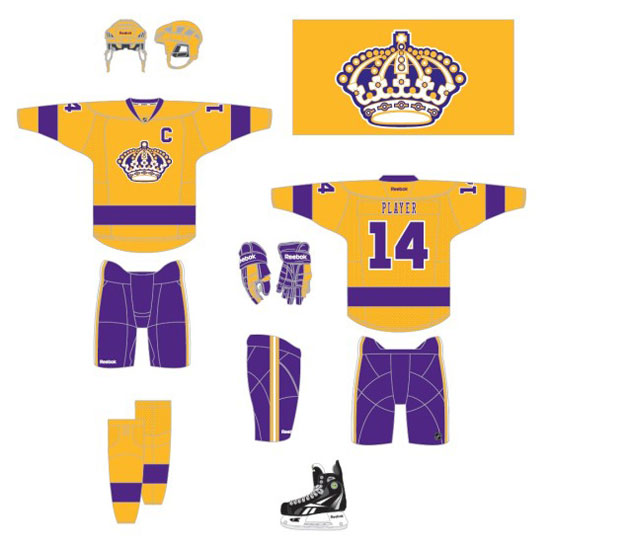 More NHL: Trades | Scores | Standings | League Leaders | Odds  | Power Rankings
The Los Angeles Kings next season will go back to their golden days. Literally.
The team isn't going to go away from their black and white primary color scheme but on certain nights? They are going to bust out the old purple pants, gold top uniforms as a tremendous ode to their history.
LA Kings Insider Jon Rosen had the goods -- and a look at the uniform.
"We know our fans love those jerseys, and they seem to like when we go back in our history," President, Business Operations Luc Robitaille said. "To me, the LA Kings have been around since 1967. I've looked for so many years, and I don't think people really understand how long we've been around for. To have the opportunity to bring back those jerseys and show some respect to our history is very important. I just think it's a fun thing for our players because they like doing it as long as we don't overdo it, and to have the opportunity to bring back the gold version…we asked the league if we'd be able to do it, and when they agreed to do it, I just thought it's great."

As Robitaille shared with LA Kings Insider, the process of incorporating new jerseys is a two-year process that includes gaining league approval, and then having the jerseys made. As such, the first Legends Night in 2014-15 won't be held until the second or third week in December.

"We're not trying to tweak or redesign the jersey, so it's a little bit easier," Robitaille said.
Well isn't that just a thing of beauty. It might be time to petition the Kings to have more honorary nights next season just so we can see thise jerseys on the ice some more.
Show Comments
Hide Comments
Our Latest Stories
From the Caps' goaltender to the star-studded headlining duo of Chicago's offense, these guys...

Scoring his 41st goal of the year in a 3-1 win over the Buffalo Sabres, the Pittsburgh Penguins...

A nightmare comes to life with Gary Bettman downplaying the idea of sending NHL stars to South...
The resurgent Lightning are primed to sneak into contention, while the once-hot Islanders are...

Capitals are first team to earn a playoff berth, but the Blackhawks are the hottest of the...

Earning their 100th point of the year in a big win over Tampa Bay, the Caps set the stage for...