PHOTO: Labatt's unveils beer cans with USA Olympic jerseys on them
Labatt's released a set of commemorative beer cans that have USA Olympic hockey sweaters from 1960, 1980, 2002 and 2010. They are beautiful.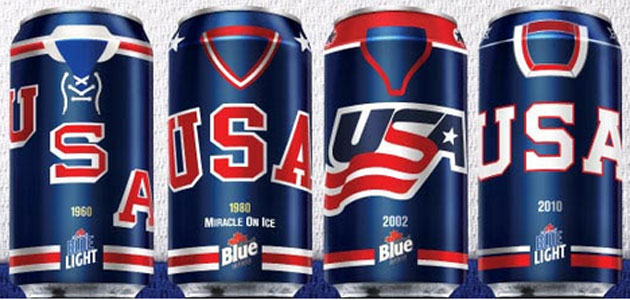 More NHL: Scores | Standings | League Leaders | Odds | Injuries | Power Rankings
Are these not the greatest cans you've ever seen in your life or what?
Labatt's, a Canadian beer that is now owned and operated by an American company, is getting you ready for the Olympics with the coolest collectible can you'll see. They are decking out their beer containers with the USA Olympic sweaters through the years.
They are exceptional, especially since the US jersey for this year's Olympics doesn't make an apperance. That's a win for all of us. And as our Chris Peters notes, that 1960 USA Hockey sweater looks just as awesome on a can of beer.
We can only imagine that the beer coming out of these cans tastes like apple pie, chevrolet, freedom and icy miracles all rolled into one.
Like Labatt's beer or not, this is pretty much a must-have six pack for American hockey fans, whether you drink it or not is up to you.
S/t Sarah Baicker
Show Comments
Hide Comments
Our Latest Stories
Bovada sets the number for trades; will Kevin Shattenkirk and Gabriel Landeskog be among t...

Another pre-deadline trade goes down, and this time it's for some late-season offense

Three of the last 10 Stanley Cup winners welcomed new coaches during their championship se...
Pittsburgh gets the help it desperately needs, while Carolina keeps stockpiling future tal...

Aramark, Heinz Field's food provider, is featuring a face-off of city-inspired dishes for Saturday's...

Once the most favored potential Stanley Cup winner, Chicago has fallen behind Washington,...