Photo: Paul MacLean, meet ... Paul MacLean?
Ottawa coach Paul MacLean's doppelganger found himself a seat right behind the Sens' bench.
Fans tuning in to watch the Ottawa Senators take on the Florida Panthers probably thought they were seeing double every time the cameras found the Ottawa bench.
Seated directly behind the home team during Monday night's tilt in Ottawa was a gentleman who can only be assumed to be Sens coach Paul MacLean's long-lost twin, complete with the trademark push-broom mustache. He even wore a suit.
Lucky for you, me and everyone else Shannon McKarney snapped the picture above of the doppelgangers in action and asked a very pertinent question.
Wait a minute. Will the real Paul MacLean please stand up? #sens #thatwasweird instagr.am/p/UxDxzqQ4iY/

— Shannon McKarney (@zchamu) January 22, 2013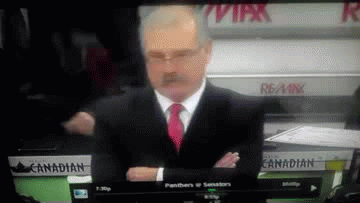 Well, I guess that settles that.
At least now MacLean knows he can pull the ol' "Parent Trap" on the media after particularly bad games.
UPDATE -- Did the Senators kick Fake Paul MacLean out of the game? 
UPDATE PART 2
Good news: Turns out Fake Paul MacLean wasn't kicked out. He was being escourted to an interview. 
I told Paul MacLean that I interviewed his stunt double during our broadcast. He said, "I bet he's a better interview than me."

— Ian Mendes (@ian_mendes) January 22, 2013
(h/t @DownGoesBrown, GIF by Andrew DeWitt)
For more hockey news, rumors and analysis, follow @EyeOnHockey and @chrismpeters on Twitter and like us on Facebook. Also, subscribe to our YouTube Channel.
Buffalo's forward suits up in Da Beauty League as he prepares to return to Sabres in 2017-...

Penguins goalie shows support for Thunder Bay's Gavin Currie

Sports Illustrated's 2017 ranking puts the two hockey stars in the top 15 of stylish athle...
The former Blues and Capitals defenseman will wear No. 22 in the Big Apple

New York's captain appears set to play out the final year of his contract in 2017-18

Bill Foley says the NHL's 31st team is sitting pretty as it builds a market for the first...