PHOTO: Ray Emery's new Flyers mask honors Tuskegee Airmen
Ray Emery is back with the Flyers so his new mask will have a pilot theme. And a hero theme. It features the Tuskegee Airmen.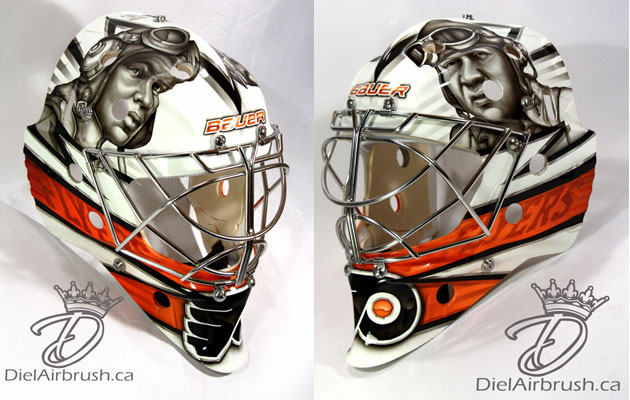 More NHL offseason: Rumors | Top 50 Free Agents | Buyout Tracker | Trades | Transactions
When lining up the goalie masks for next summer, arguably the most popular one thus far is the mask that will be donned by Sharks goalie Antti Niemi, which honors heroes of the Finnish War. But he won't be the only goalie with a tribute to past war heroes.
New Flyers goalie Ray Emery will also honor fighting men of the 1930s and 40s while also taking on a Flyers theme; it features a tribute to the Tuskegee Airmen.
InGoal Mag has the story from Diel Airbrush designer David Leroux of how the mask came to be.
What he found was the origin of the team's name, which was selected through a contest (to win a 20-inch RCA TV), and a pilot-themed mask that Frank Cipra had painted for then-Flyers goalie Brian Boucher.

"I have been a fan of Frank Cipra forever and I thought the pilot theme was a good idea so I asked Ray if it's something he would like," Leroux said. "He said 'yeah' so I began searching and that's when I came across the Tuskegee Airmen, the first African-American aviators in the United States armed forces."

On one side Leroux painted the image of a Tuskegee Airman, which he also felt symbolized both Emery's well-known fighting spirit and his ability to overcome adversity while battling back from what most believed was a career ending hip injury. On the other he used Gregory "Pappy" Boyington, a United States Marine Corps officer and fighter ace who was awarded both the Medal of Honour and the Navy Cross during World War II.

"You can't get much more patriotic," Leroux said.
What an awesome touch, that's outstanding.
For those of you who don't know about the Tuskegee Airmen, I'd suggest taking some time to read up on them from World War II. They were given some of the most difficult missions pilots faced during the war and battled through discrimination in the military while also taking on the Axis forces. Their story was also made into the movie 'The Tuskegee Airmen' in 1995.
By the way the personal touch for Emery comes on the back where his nickname Razor appears on the plate while the Flyers colors and logo are found along the chinstrap. You can see a couple other photos on InGoal Mag's site.
Excellent mask, this one will be right at the top for the season in my book.
See other goalie masks that have already been released this summer.
Show Comments
Hide Comments
Our Latest Stories
Flames-Capitals would pit underdogs vs. title favorites, while Pens-Oilers would showcase elite...

The Ducks are outshining their Pacific competition, while the Habs and Predators offer lots...

Big losses by the Sharks and Blackhawks have Washington back on top
On day he signs entry-level deal with Canucks, Boeser scores Vancouver's third goal in 4-2...

The Penguins' leader in highlight reels has been extra feisty on some cringe-worthy cheap shots...

2017 SAHP NHL Global Series will pit Ottawa and Colorado against each other in Stockholm