PHOTO: Ryan O'Reilly's stick blade is pretty unusual
Avalanche forward Ryan O'Reilly has an unusual 'curve' on the end of his stick blade. No, there's nothing illegal about it.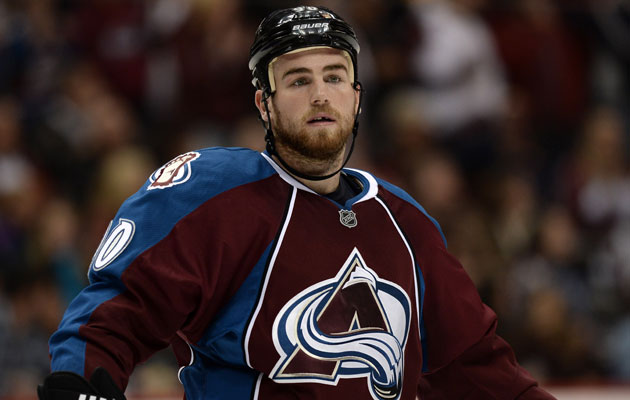 NHL previews: Atlantic Division | Metropolitan Division | Central Division | Pacific Division
Not all hockey sticks are created equal. Players have their preferences from the amount of tape they use to the severity of the curve of the blade.
While you usually see all different types across the league, I've never seen one quite like Colorado Avalanche forward Ryan O'Reilly's. Mike Chambers of the Denver Post snapped a shot of the stick up close. Pay attention to the toe.
His blade takes a near 45-degree turn to close, giving him better ability to keep the puck from sliding off his stick. It comes in particularly useful when in motion like, say, when performing a spin-o-rama on a shorthanded rush.
Of course, it also would figure to hamper his ability to shoot or pass as the toe of the stick is often instrumental in one's accuracy. It seems like a strange decision to go to such a unique stick given how much more often O'Reilly will pass or shoot rather than perform a wraparound or spin-o-rama, but it doesn't seem to stop him from having success in the NHL, now does it?
For those wondering, it is indeed legal. Here's how Rule 10.1 reads on the curvature of sticks.
The blade of the stick shall not be more than three inches (3") in width at any point between the heel and ½" in from the mid-point of the tip of the blade, nor less than two inches (2"). All edges of the blade shall be beveled (see 9.6). The curvature of the blade of the stick shall be restricted in such a way that the distance of a perpendicular line measured from a straight line drawn from any point at the heel to the end of the blade to the point of maximum curvature shall not exceed three-quarters of an inch (3/4").
So yes, it is legal in addition to being unusual
Show Comments
Hide Comments
Series schedules, results and updates from the second round of the Stanley Cup race

New Jersey claims No. 1 draft pick after having an 8.5 percent chance of earning the top s...

Ottawa takes a 2-0 lead over New York, and Pittsburgh does the same against Washington
St. Louis connected on one of five power plays to tie the series while Anaheim loses again...

Ottawa's defense came up big in Game 1 to beat New York, and the Penguins beat the Capitals...

Subban had three points in Nashville's 4-3 win over St. Louis in Game 1, while Edmonton dropped...