PHOTO: This Blackhawks-themed Camaro SS can be yours
If you were looking for the car to show your Blackhawks love with, this 2012 Camaro SS is for you.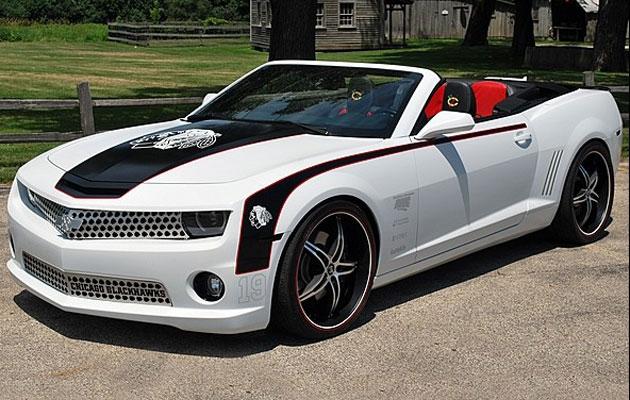 NHL previews: Atlantic Division | Metropolitan Division | Central Division | Pacific Division
If you found yourself driving down the road, looking for a way to express your pride and excitement in the Chicago Blackhawks' Stanley Cup title this past season beyond a car flag flapping from your window, have we got the answer for you.
Mecum Auctions in Chicago is auctioning off a custom made 2012 Chevy Camaro SS convertible with a Blackhawks theme. Behold this machine and its Blackhawks-centric features.
-- Matte Pearl White paint
-- Heated custom leather seats and interior featuring Chicago Blackhawks logo
-- Shifter made from a puck
-- Grill with Hawks logo
-- The team logo also appears on top of the car's hood scoop
-- More badging appears on both bow-tie emblems, front and back
Yes you read that right, a shifter made from a puck. That might make shifting slightly difficult but don't worry, it's totally worth it.
You can see a couple of other pictures of the machine here including the grill on the front, the emblem over the gas tank cover and the opposing numbers of 19 (Jonathan Toews) and 88 (Patrick Kane) on the front bumper.
Take note, the car is slated to be sold on Friday at 4:45 PM so if you need to check on your finances, you have a little bit of time. If not, maybe you can check on the availability of this van with a custom mural.
Show Comments
Hide Comments
The Magic Man is feeling right at home with SKA St. Petersburg

Las Vegas owner Bill Foley is known to be partial to 'Knights' related names

Bednar recently led the Lake Erie Monsters to the AHL's Calder Cup
Crosby will don the 'C' once again after captaining Canada to gold at the 2014 Olympics

The Panthers cut costs, while the Coyotes add a former first-round pick and extra cap spac...

Braid will be the team's full-time skating coach, working with players throughout the orga...