PHOTO: USA Hockey jerseys for 2014 Sochi Olympics
Team USA showed off their sweater for the 2014 Olympics featuring a new-look crest on the chest.
More NHL offseason: Rumors | Top 50 Free Agents | Buyout Tracker | Trades | Transactions
ARLINGTON, Va. -- Part of the festivities this week in Northern Virginia for USA Hockey at the Olympic Orientation Camp was to unveil the sweaters the Americans will sport in Sochi. In front of a sold-out crowd at the Capitals' practice facility on public day, they did exactly that.
So without further ado, the American sweater with a new crest on the sweater this time around.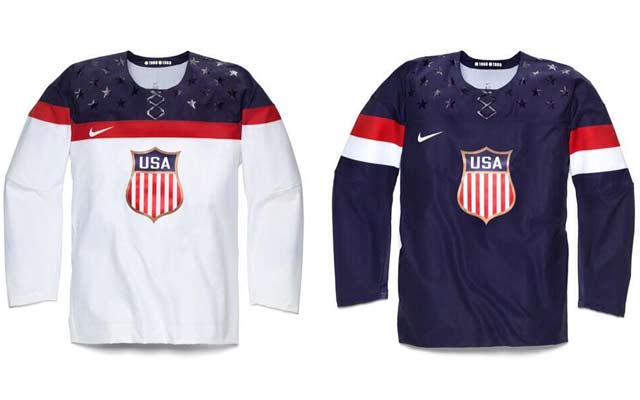 The sweater has a little more than meets the eye when up close. The stars on the shoulders and fake lacing come through in the mocks and in person but might be kind of tough to see on TV. Frankly, that might not be a bad thing.
Here are the features of the look the team will take to Russia (from USA Hockey).
The jersey draws inspiration from the pride of competing for Team USA by amplifying the American Flag aesthetic through matte/shine stars on the shoulders and bold striping. The patriotic and inspirational message "Land of the Free, Home of the Brave" can be found on the inside neckline.

The USA Hockey Crest has been enlarged and refined to reflect the 80's aesthetic, while the right sleeve pays homage to gold medals in 1960 and 1980.
Here's a look of the sweater on Blues forward David Backes.
His take?
"I like it. I think they're very snazzy. Anything with USA on it is fine by me. Some one put a lot of thought into it and designed a pretty nice jersey," he said.
But what about those fakes laces? "That's maybe suspect." Fair enough.
What does everyone think of the new jerseys? 
Show Comments
Hide Comments
Our Latest Stories
Duquesne University students show off hockey in skills while chasing a rat from their hous...

Washington has 18 wins during a 21-game stretch, including 12 straight victories at home

The Penguins stud becomes Mr. 1,000 and is the 12th fastest in NHL history to earn the tit...
The interim coach has ridden versatility and a winning track record to a 3-0 start

What did we learn from the deputy commissioner's recent remarks on the NHL?

Another in-season coaching change: What does it mean for the first-place Montreal Canadien...