PHOTO: Young Patrick Kane was on Sylvain Turgeon trading card
Patrick Kane made his trading card debut in 1995 when he was just a boy, sitting in the stands in Buffalo on Sylvain Turgeon's card.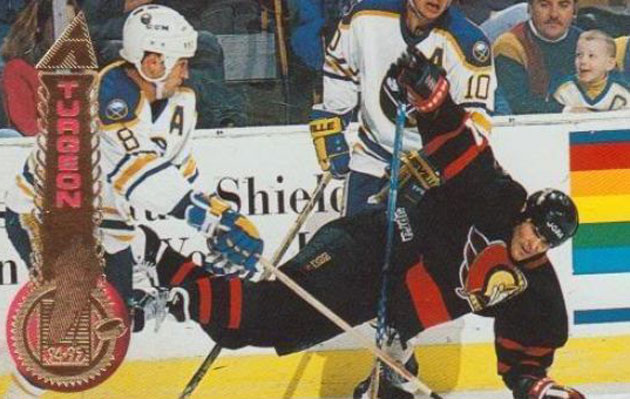 More NHL: Scores | Standings | League Leaders | Odds | Injuries | Power Rankings
Think Patrick Kane didn't make it onto a trading card until he was drafted first overall by the Chicago Blackhawks in 2007? Think again.
In a fantastic profile piece on the high-scoring American winger ahead of the Sochi Olympics, Kevin Allen of USA Today spoke with Kane and his father, Pat Sr. That's when the trading card of former Ottawa Senator Sylvain Turgeon from 1995 came up. On said card? None other than Patrick Kane.
You see, the Kanes had season tickets to Sabres games, seats that were right on the glass. So in the photo that was snapped in Buffalo and used on the trading card, there are the two Patricks watching front and center, little Pat in his Sabres sweater.
Is that not the most adorable photo you've ever seen of Patrick Kane? I mean this is pretty good too but it can't really compare, now can it? You can't beat that smile as little Pat watches on.
One thing in particular strikes Pat Sr. about the picture, something he said really captured how his son acted at hockey games growing up.
"He is 5 or 6 years old, and what we notice is that he is not eating popcorn, not eating ice cream," Pat Sr. told Allen. "He's not dillydallying. He is watching the game."
The discovery of the trading card isn't new but noting the attention to detail and awareness of the game with young Patrick makes it even that much more awesome of a photo.
Show Comments
Hide Comments
Our Latest Stories
From the Caps' goaltender to the star-studded headlining duo of Chicago's offense, these guys...

Scoring his 41st goal of the year in a 3-1 win over the Buffalo Sabres, the Pittsburgh Penguins...

A nightmare comes to life with Gary Bettman downplaying the idea of sending NHL stars to South...
The resurgent Lightning are primed to sneak into contention, while the once-hot Islanders are...

Capitals are first team to earn a playoff berth, but the Blackhawks are the hottest of the...

Earning their 100th point of the year in a big win over Tampa Bay, the Caps set the stage for...