PHOTOS: Canadiens mascot owns up to Fallon bet, takes saddest pics
Canadiens mascot Youppi! owned up to his half of the bet with Jimmy Fallon on Sunday, resulting in some of the saddest photos you'll ever see in sports.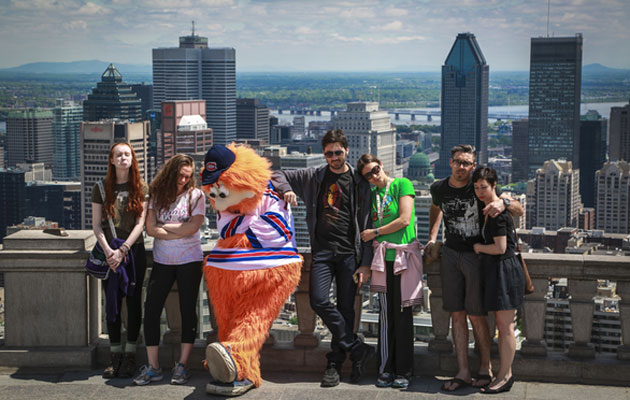 More NHL Playoffs: Schedule, TV listings | Expert Picks | Bracket | Scores | Odds
By now you're probably aware of the bet made between the Montreal Canadiens and The Tonight Show host Jimmy Fallon over the Eastern Conference finals. Fallon's Rangers defeated the Canadiens, which meant it was shaming time for Youppi!, the former Expos mascot-turned Canadiens mascot.
A bet's a bet so on Sunday Youppi! put on his custom Rangers jersey (he didn't ditch the Habs hat, though) and, as promised, took a stroll around Montreal posing for pictures.
These may be the saddes photos you'll see today.
#HabsFallonBet photo No. 5 – Youppi! @ Old Montreal @jimmyfallon pic.twitter.com/W1uyQm7Q0p

— #NHL15Subban (@CanadiensMTL) June 1, 2014
All that's missing is an empty bottle by his side there, sheesh. But it only got sadder, much sadder.
#HabsFallonBet photo No. 4 – Youppi! at @LaRondeSixFlags @jimmyfallon pic.twitter.com/rzCyFq4twU

— #NHL15Subban (@CanadiensMTL) June 1, 2014
I never knew it before but nothing says despair quite like riding a carousel by yourself while sulking. Please, somebody give that mascot a hug before the photos get any more heartbreaking.
Too late.
#HabsFallonBet photo No. 2 – Youppi! @ Big O @jimmyfallon pic.twitter.com/g080IEu65K

— #NHL15Subban (@CanadiensMTL) June 1, 2014
Oh, that one has to sting. Why would you do this to Youppi!, Jimmy?! Making him go visit the old Olympic Stadium, home of the Expos? That's just unbearably sad. That poor, poor mascot.
Let's just hope that to make Youppi!'s suffering palpable, Fallon and his staff at least turn this into a funny segment on the show otherwise Youppi!'s forced pain would all be for nothing (minus these pictures, of course).
As for the other part of the bet Fallon gave them a less sad yet no less frustrating, we're sure, photo of Henrik Lundqvist playing the guitar for a Twitter avatar. Good thing it's a nice day in Montreal.
Show Comments
Hide Comments
Series schedules, results and updates from the second round of the Stanley Cup race

New Jersey claims No. 1 draft pick after having an 8.5 percent chance of earning the top s...

Ottawa takes a 2-0 lead over New York, and Pittsburgh does the same against Washington
St. Louis connected on one of five power plays to tie the series while Anaheim loses again...

Ottawa's defense came up big in Game 1 to beat New York, and the Penguins beat the Capitals...

Subban had three points in Nashville's 4-3 win over St. Louis in Game 1, while Edmonton dropped...