PHOTOS: Justin Bieber poses with the Cup as only Justin Bieber can
Justin Bieber was in Chicago on Tuesday for a concert and got to meet the Stanley Cup again. The photos are ... something.
More NHL offseason: Rumors | Top 50 Free Agents | Buyout Tracker | Trades | Transactions
Ah, that Justin Bieber, always drawing the ire of sports fans no matter what he does. I would say perhaps it's just residual hate from dads who have to take their Belieber daughters to scream-fest concerts but Bieber doesn't need a whole lot of help.
The pop star was making his latest tour stop in Chicago on Tuesday and what's going on in Chicago right now? The Stanley Cup has taken up residence for the summer after the Blackhawks won and it was in the building with Bieber on Tuesday. Naturally, Bieber got the chance to see it up close and, well, this was the result.
The Biebs meets THE CUP!!! pic.twitter.com/oh4AvDbYbT

— Peter Hassen (@PJHASSEN) July 10, 2013
Oh, oh my. Where do you begin? I guess I won't take him to task for the fashion -- but seriously, why do you need sunglasses inside the Blackhawks changing room? -- and just keep it to the hockey stuff. Notice the Bieber customized Blackhawks jersey? That is hanging in captain Jonathan Toews' stall. For some reason that just seems very, very wrong. And couldn't they take away the pads from the stalls? The Final ended two weeks ago.
Then there are some who are going to complain about Bieber touching the Cup. That's not so bad, it's certainly not discouraged. When I had a chance to see the Cup up close I was told I could touch it but frankly, I didn't dare. So really, Bieber's in the clear -- at least he didn't lift it over his head, the cardinal sin, like Jim Belushi did.
However Bieber did commit another sin of sorts. Let's take a look at another angle via Tumblr.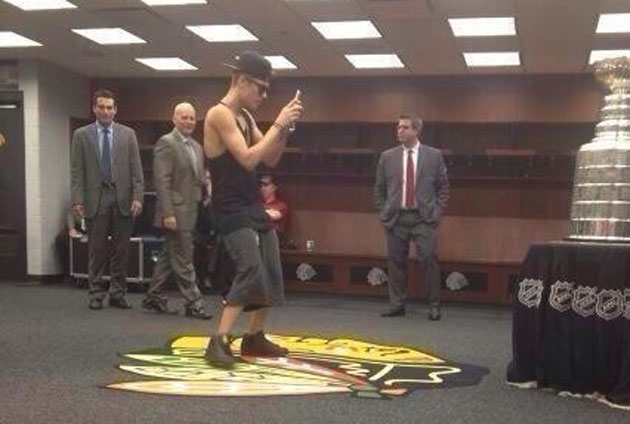 Yup, the clothes still look absolutely ridic ... HE'S STANDING ON THE BLACKHAWKS LOGO!!! The only thing worse than Bieber standing square on the logo to take a picture of the Cup is that everybody is just letting him do it! Where's Andrew Shaw or Brandon Bollig to defend their team when you need them?
Speaking of Shaw, he decided to shoot a tweet Bieber's way to let him know the rules of the room.
Bro no stepping on the logo @justinbieber that's money on the board! #gutty pic.twitter.com/DtgRo4loMn

— Andrew Shaw (@shawz15er) July 10, 2013
I know Bieber is Canadian and hockey is in the blood of every Canuck -- and he is a true hockey fan so he does get some leeway there -- but he and the Cup should have no more dates. They've had a few now (back in 2010 he held the Cup) and that should be enough.
Show Comments
Hide Comments
Preds captain has three more days to recover from a hit to the head before final begins next...

Replicating its Game 6 dominance -- everywhere but the scoreboard -- might not be easy for...

Ottawa recovers from a 7-0 loss in Game 5 to quiet Pittsburgh's offense
Series schedules, results and updates from the Eastern and Western conference finals

Out for the remainder of the postseason, Johansen is still part of the Predators' playoff...

Nashville refuses to back down despite taking fewer than 20 shots against fill-in goalie Jonathan...