PHOTOS: Navy's hockey team surprised with Stanley Cup
Navy just had its most successful hockey season and as a reward as well as to thank them for all they do, they were surprised with a day with the Stanley Cup.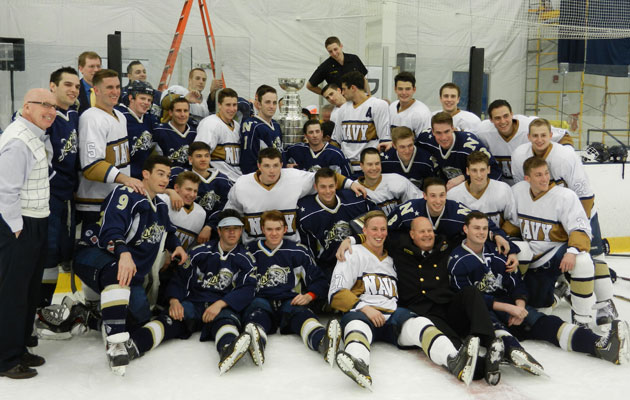 More Playoffs: Schedule, TV listings | Expert Picks | Bracket | Scores | Odds
ANNAPOLIS, Md. -- The players strolled in, seemingly just another day playing hockey at the Naval Academy. Some wondered why there were more people around the building than normal and figured something was going on but they were there to do what they love to do; play hockey.
Navy's season was over, the Midshipmen finishing eighth in the nation after winning the Eastern Collegiate Hockey Association of the American Collegiate Hockey Association's top division. They reached the quarterfinals of the national tournament before bowing out.
It was an incredible season, the best the Midshipmen have had on ice. Considering all they do, studying, preparing to defend this nation with a career of service and still excelling on the ice, some got the idea these boys deserved a nice reward. Get a reward they did.
With the help of NHL sponsor Discover, the Navy hockey team was surprised with the Stanley Cup at their split-squad scrimmage. Over the loud speakers, the players heard an introduction, congratulating them on their fine season and thanking them for all they do. That was just the start.
From one of the dressing rooms of their home rink, out walked Phil Pritchard, Keeper of the Cup in his customary white gloves (Pritchard doesn't collect much personally but his white gloves are an exception; he explains he has three drawers full of them at home, why he isn't sure) with the real guest of honor; the Stanley Cup. Watching from the opposite side of the rink, the players saw Pritchard stroll in and set the Cup up on a table right between the benches. For once, players were racing to get back to the bench and off the ice.
"It's so good when we surprise people. I always think that's the best way is when we surprise them," Pritchard said. "It's so natural and it's just so exciting. People have no idea, all of a sudden you walk in with this silver thing, they realize what it is and they freak out. I love the surprise part."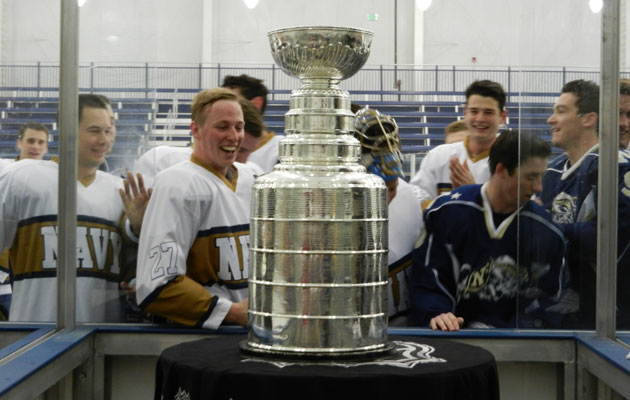 This was Discover's Day with the Stanley Cup, an annual tradition now where some lucky fan, or in this case fans, is treated with the great surprise and a day with the holiest of all sports trophies.
Navy's team was chosen for all that they do as cadets and hockey players, the players earning something special, something coach Mike Fox was happy to help make it happen.
"I am so proud of the incredible season these young men had," Fox said. "For Discover and the NHL to recognize our accomplishment by allowing the team a chance to spend a day with the Stanley Cup, is a perfect ending to the season; especially for some of our players, who will be leaving to serve their country in a few short weeks."
The players got to take pictures with the Cup and see it up close before it was moved to a new location and everybody got to take pictures. Soon enough, people from outside the arena were coming in to see the Lord Stanley's Cup too.
"It became almost an hour lineup. It was great for the Annapolis area," Pritchard said. "It was consistent for like three hours. It was the Navy hockey team, student from the school or the general public; it just keep going. It's great, it's what you want to see."
Spending a day with the Stanley Cup isn't something that's new. It's one of hockey's greatest traditions, one that started in 1989 with the Calgary Flames.
When Pritchard thinks back about all the 20-plus years that he has been a caretaker for the Cup and all of the times he has taken it with him to visit a player or surprise fans or whatever other adventure that trophy might be up to, one memory sticks out a bit more than most. His first.
"The first one I always remember. It was with Colin Patterson of the Calgary Flames in 1989," Pritchard explained. "It was kind of an ad-lib thing because at the time players didn't get to take the Cup home. It just worked out that we were out at the NHL Awards and Patterson was up for the Selke Trophy. He came up to me and say 'Hey, is there anyway the Cup can come by my house tomorrow, in the morning? I'm going to be home, I'd like to surprise my family and friends.' That was it for us. I drove up his street at like 7:30 in the morning and they had banners up, the surprise was gone. It was amazing."
Navy players got to experience that same amazing feeling this week, their first days with the Cup. Undoubtedly it will be one they all remember, too.
Show Comments
Hide Comments
Washington and Pittsburgh figure to go neck and neck, as do Anaheim and Edmonton

Cassidy went 18-8-1 after replacing Claude Julien in 2016-17

With the playoff field cut in half, the stakes keep getting raised
Green has led Vancouver's AHL affiliate since 2013

Series schedules, results and updates from the second round of the Stanley Cup race

Here's how to stay on top of all of the NHL's second-round playoff series, which begin Wed...