Playoff similarities from this year to last for Blues will freak you out
If Blues fans are having a feeling of deja vu, it's understandable. The similarities from last postseason to this are so similar it's scary.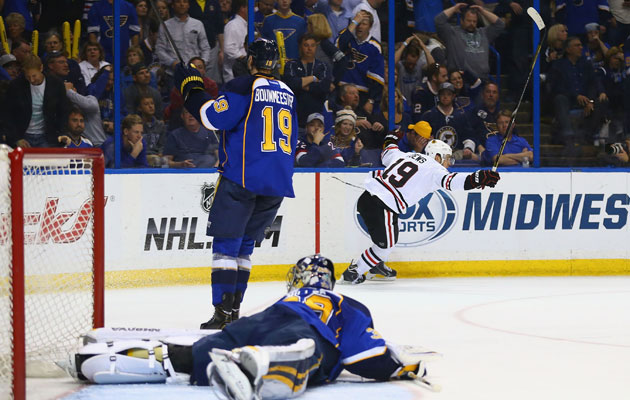 More Playoffs: Schedule, TV listings | Expert Picks | Bracket | Scores | Odds
Either this is one of the biggest coincidences you'll see in hockey or the St. Louis Blues are trapped in an episode of The Twilight Zone.
Last season the Blues were the higher seed in their first-round matchup against the defending Stanley Cup champions, in that case the Los Angeles Kings. This season they are again the higher seed in their opening playoff series against the defending champs, the Chicago Blackhawks. That's just the tip of the coincidence iceberg.
Stick tap to CSN Chicago for connecting all the dots on this one.
• Last postseason the Blues won Game 1 on a goal from Alex Steen (thanks to a horrid Jonathan Quick error). Game 1 this year? Steen scored in overtime (triple OT to be exact).

• In Game 2 last year the Blues won a one-goal game thanks to a game-winning goal from Barret Jackman. Game 2 this year? A one-goal game with the winning goal from none other than Jackman.

• For Game 3 the series shifted to the road and in each game the Blues were shut out. Just to make it a little weirder, each game the Blues outshot the opponent by nine.

• In Game 4 both years the Blues had a 3-2 lead in the third period only to wind up losing 4-3 in overtime. But it's OK, the Blues still have home-ice advantage.

• That brings us to Game 5. Last year the Kings took leads of 1-0 and 2-1 only to have Alex Pietrangelo score to send the game to overtime, assisted by Jaden Schwartz. In overtime the Kings scored for a 3-2 win. Sound familiar? On Friday night, the Blackhawks went up 1-0 and then later 2-1 before Pietrangelo scored to tie the game, assisted by Schwartz. The Blackhawks won in overtime, 3-2.
So, that's kind of freaky, huh? Like wayyyy freaky.
You knew it was probably beyond the state of coincidence when Jackman of all people scored a game-winning goal in Game 2 both years. This is a defenseman who scored three goals this season.
Next up is Game 6 and if we've learned anything from all of the above, the Blues should be worried. Los Angeles won that game 2-1 thanks to a last-second goal in the second period from Dustin Penner to clinch the series. Obviously Penner doesn't play for the Blackhawks but Bryan Bickell is a guy who has drawn comparisons to Penner. Uh oh.
If that's the fate that takes down the Blues on Sunday -- if they go down -- you might want to get to work really quickly on your bucket list because this might be it.
While it's certainly not as strange as this major coincidence, it's also pretty amazing that each of the first four games between the Blue Jackets and Penguins has ended with a 4-3 final score, the winning team overcoming a 3-1 deficit each time.
What a crazy first round.
Show Comments
Hide Comments
Here's how to stay on top of all of the NHL's second-round playoff series, which begin Wed...

Series schedules, results and updates from the first round of the Stanley Cup race

Ottawa took a 3-2 decision to send Boston home, and Washington outlasted Toronto, 2-1
Stevens was L.A.'s interim coach for four games in the 2011-12 season

St. Louis, New York and Edmonton eked out victories that eliminated Minnesota, Montreal and...

Fresh off the Predators' sweep of the Blackhawks, Gnash is fired up for his team