Predators, USA GM David Poile recovering from multiple surgeries
Nashville Predators and Team USA GM David Poile is recovering from a third surgery after taking a puck to the face at a team skate. He's expected to be back with the Predators soon.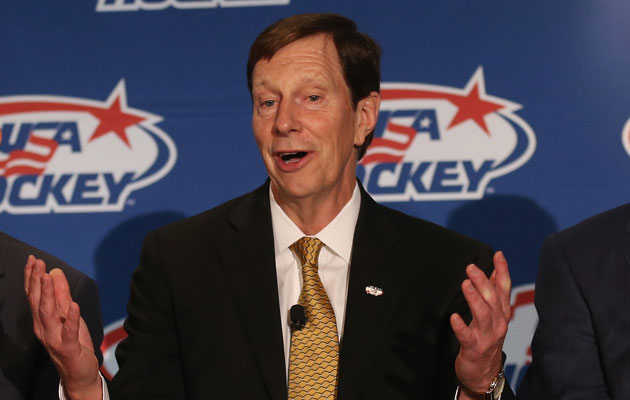 More NHL: Scores | Standings | League Leaders | Odds | Injuries | Power Rankings
Nashville Predators general manager David Poile continues to recover from a couple of surgeries that caused him to miss a trip to Sochi to watch the USA roster he assembled compete for gold, an injury that caused him to undergo two initial surgeries before a third more recently.
Poile was struck in the face by a puck at a Predators practice right before the Olympic break set in. The incident occured at the team's morning skate prior to a game at Minnesota and immediately Poile was taken to a Minnesota hospital and had two surgeries at that time.
On Tuesday the Predators issued a release on Poile's status, saying he underwent a third operation last week.
David underwent an eye-related procedure at Vanderbilt Medical Center on Friday, Feb. 14, designed to allow for further evaluation of his injury. He originally suffered a fractured orbital bone and fractures in his nose. He is wearing and will continue to wear a patch over his injured eye while remaining under observation as the medical team continues to assess his recovery.

David is expected to return to his Nashville Predators office this week. He remains in regular contact with Ray Shero and USA Hockey during the ongoing 2014 Winter Olympics in his capacity as General Manager of the team and he will resume office work overseeing Predators Hockey Operations as the team returns to the ice this Wednesday for practice in preparation for the 2013-14 stretch run.

"I know that I have a challenging road ahead, but am going to embrace the challenge and am eager to get back to work," Poile said. "Thank you, in particular to the medical teams at Regions Hospital in St. Paul, Minn., and Vanderbilt Medical Center here in Nashville for the outstanding care and attention I have received and continue to receive. Thanks also to all those in Nashville and throughout the hockey community who have reached out to offer support and encouragement. It has been uplifting and most appreciated. I'm looking forward to watching USA's quest for the Gold Medal in Sochi and the Predators resuming the playoff race."
While Poile will be back in the office soon -- great news with the trade deadline looming on March 5 -- there is no actual timetable for his recovery. Instead he might just look like his players when the playoffs come around. GMs are just as tough as the players.
First things first, though, and that's the Olympics. Can't you just see Poile pulling a Lou Brown from Major League while watching Team USA on television?
Show Comments
Hide Comments
Series schedules, results and updates from the second round of the Stanley Cup race

Here's how to stay on top of all of the NHL's second-round playoff series, which begin Wed...

Series schedules, results and updates from the first round of the Stanley Cup race
Ottawa took a 3-2 decision to send Boston home, and Washington outlasted Toronto, 2-1

Stevens was L.A.'s interim coach for four games in the 2011-12 season

St. Louis, New York and Edmonton eked out victories that eliminated Minnesota, Montreal and...