Pucks and Numbers: Don't worry about the Kings
The Los Angeles Kings are off to a slow start, but don't start worrying about them just yet. They're going to be fine.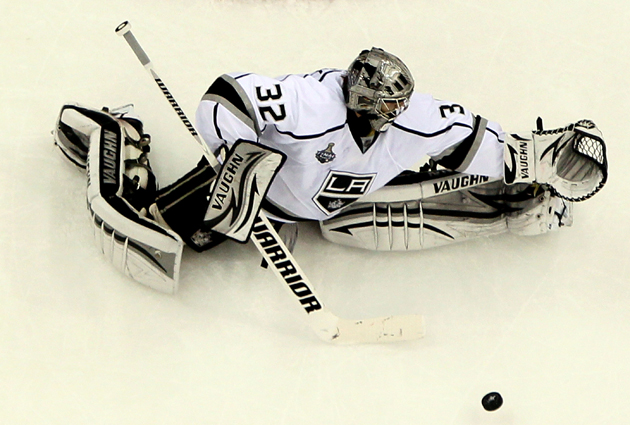 Goaltending is holding the Kings back this season, but that won't last for long. (Getty Images)
More NHL: Scores | Standings | Power Rankings | Odds | Fights | Stats | Rumors
Pucks and Numbers: a weekly statistical look at what's happening around the NHL. This week: Don't worry about the Los Angeles Kings because they're going to be just fine.

Thanks to their 4-2 win in Columbus on Tuesday night the Los Angeles Kings improved their early season record to 3-3-2. That's probably a disappointing mark for the defending Stanley Cup champions, and it has them sitting in 10th place in the Western Conference as of Wednesday afternoon.
It's at this point when you could probably start to scribble down some column or thoughts on their "Stanley Cup hangover." Or how their defense is struggling without Willie Mitchell and Matt Greene. Or maybe how they just weren't that good last season and were simply a "hot team" in the playoffs and now reality is starting to smack them in the face.
You could do that. You would also probably be wrong for doing so.
The better approach would be that the Kings are going to be just fine and their record after eight games is simply the type of noise you can expect to see in the early stages of a season because of small sample sizes and whacky percentages.
There are actually some pretty encouraging signs for the Kings that this is going to turn around for them, if it already hasn't started to.
After losing three straight games to open the season the Kings have earned at least a point in four of their past five (winning three), and are starting to pick it up offensively with 16 goals over that stretch (an average of 3.20 per game).
Based on the way they've played this season, especially recently, this has the look of a team that could not only be on the verge of stringing together a bunch of wins, but might even be on the verge of blowing some unsuspecting team out.
Here is why.
Jonathan Quick is struggling right now, and that's not going to last
Jonathan Quick was arguably the best goalie in the NHL last season and put together an historic run through the postseason as the Kings cruised through playoffs winning 16 of their 20 games. So far this season he and his backup, Jonathan Bernier, have struggled in net, and through the first three weeks of the regular season the Kings as a team have the worst even-strength save percentage in the NHL at .880.
That is perhaps the single biggest problem with the team right now. The goalies aren't being asked to carry a heavy workload, and they're not playing well.
And there is no way they're going to be in that position for long.
While Quick isn't going to consistently put up the type of numbers he did last season, he's not going to have a save percentage below .900 for much longer.
What's great about that for the Kings is they are one of the best teams in the league when it comes to preventing shots and controlling the puck. As Quick continues to improve his own personal numbers the combination of his play and the fact the Kings control the puck better than anyone should once again make them one of the toughest teams in the NHL to score against. Just keep in mind that only four goalies that qualified for the league lead last season finished with a save percentage below .900, and I would bet anything that Quick won't be joining their ranks this season.
This was the biggest part of the Kings' success last season, and why they should be be a major threat in the Western Conference once again this season.
They are a puck-possession machine
Hockey is, for the most part, a game of possession.
Teams that control the puck the most in the right situations are going to win the most. You might hear some coaches refer to it as "tilting the ice."
Sometimes the best defense is a good offense, one that can keep the puck in the offensive zone and as far away from its goalie as possible. No team is going to score without the puck and by playing 190 feet away from the net they're gunning for (unless of course the other net is being defended by Vesa Toskala).
No team in the league is better at owning the puck than the Kings.
The Kings' postseason success last year shouldn't have come as a total shock as they were one of the best possession teams in the NHL.
And that statement isn't total hindsight based on the postseason results. Not to toot my own horn here  (*beep, beep*) but in my last power rankings last regular season I wrote this about the Kings: "There's just something about this team that makes me think they can do some damage in the postseason." I then picked them in every round of the playoffs, including in their 8 vs. 1 matchup against the Presidents Trophy winning Vancouver Canucks. All because of their top-shelf possession numbers.
They are even better so far this season when it comes to controlling the puck.
One of the easiest ways to look at possession is total shot attempts. If a team is attempting more shots -- and getting more shots on goal -- than their opponent, it's a safe assumption that team has the puck the most.
Through eight regular season games the Kings have attempted nearly 58 percent of the shots that have been taken in their games, and they're outshooting their opponents 182-153 in 5-on-5 situations (they've been outshot at 5-on-5 in just one game this season).
Those are pretty one-sided numbers, and it's going to start paying off for them.
They are controlling the pace of the game and dictating where it's being played. This is a positive sign because, again, their goalies aren not going to continue stopping just 88 percent of the shots against them, and the more possession they have the greater chances they have to increase their goal output (and it already is starting to go up) with a roster that boasts the likes of Anze Kopitar, Dustin Brown, Jeff Carter, Mike Richards, and Justin Williams. 
But sometimes even total shots can be a little misleading based on the game situation.
For example, a team that's winning by two goals in the third period isn't going to take as many shots as a team that's trailing by two goals, so the numbers can be thrown off a little. That's why sites like BehindTheNet.ca track shot attempts based on the score. Particularly when the game is tied or "close," when teams are playing more within the confines of their system and one isn't sitting back in a shell to protect a lead or desperately trying to throw every puck it can at the net in the hopes of a late comeback.
So far this the Kings are attempting more than 58 percent of the shots when the game is close, and more than 60 percent when the game is tied. They are in the top-two in both areas. They were in the top four in both areas last season.
Sometimes in the NHL a team can play well and not get the desired result (we saw it earlier this week with Calgary and Chicago), and the Kings have been better than their early season record indicates.
For more hockey news, rumors and analysis, follow @EyeOnHockey and @Agretz on Twitter and like us on Facebook. Also, subscribe to our YouTube Channel.
Show Comments
Hide Comments
Series schedules, results and updates from the Eastern and Western conference finals

Nashville refuses to back down despite taking fewer than 20 shots against fill-in goalie Jonathan...

Anaheim will be without two key forwards and possibly its No. 1 goalie in Nashville on Mon...
Pittsburgh makes a fool of Ottawa's top-line defense with four goals in the first period a...

"Hank" then gets tackled by teammate William Nylander in a celebration for Team Sweden

Nashville can advance to the Stanley Cup Final with a win at home in Game 6