Quest for the Cup: Pivotal Game 5s in Western Conference
The Ducks and Wings return to Anaheim, their series locked at 2-2. Same for the Kings and Blues going back to St. Louis. Now things get really fun.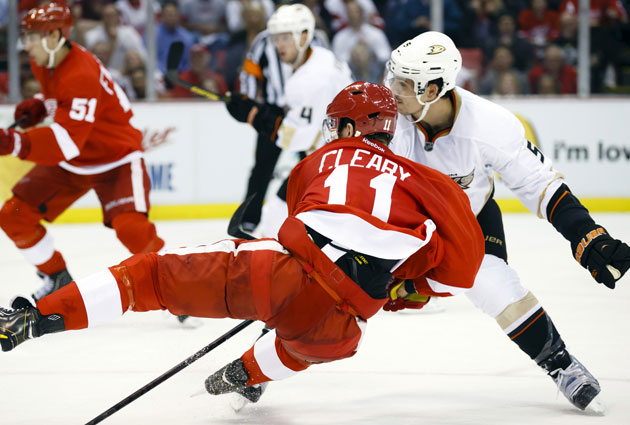 More NHL: Scores | Standings | Odds | Fight-O-Meter | League Leaders | Rumors
First star game of the day


Game 5 (tied 2-2), Detroit Red Wings at Anaheim Ducks , 10 p.m. ET (NBCSN): I feel this series has been somewhat overshadowed by the other battle involving a Southern California team and a Central power, but this has been some really good hockey. Two overtimes in four games should attest to that well enough, as should a 2-2 series.
For Game 5 the series shifts back to Anaheim for a day but the travel shouldn't be a factor; both teams are making the same trip. What should matter, though, is Anaheim being back at the Pond. The Ducks didn't play poorly by any stretch of the imagination in Detroit, but home ice is always comforting.
Detroit is a bit lucky to be all square in this series; the two games that didn't go to overtime were games Anaheim controlled, winning them 3-1 and 4-0.
Looking at the Ducks, what is impressive so far about how they've played is that they're not getting a ton of contributions from their best players, namely Corey Perry . In the four games so far he only has one assist. Even without him scoring the Ducks have been the slightly better team in this series. Imagine if he gets going. It's helped that Jonas Hiller has played so well.
Second star game of the day


Game 5 (tied 2-2), Los Angeles Kings at St. Louis Blues , 9 p.m. ET (CNBC): This has been the best series so far for my money and Game 5 should be no exception.
After three very tight games (as in style of play, not just the score) things really opened up in Game 4 in LA. The two teams combined for seven goals in LA's 4-3 win. They had seven goals combined in the previous three games. Was that a sign of things to come or an aberration? I'd lean toward the latter but we'll find out in Game 5 back in St. Louis.
Every game has been tight but so far every game has gone to the home team. That's a trend that obviously the Blues will live with considering two of the final three -- if needed -- are on their ice. The urgency of the game should show up in the opening minutes, but then again it probably can't be that much more urgent and physical than the first periods in the previous games. This has been excellent, bruising hockey so Game 5 should be no different.
Third star game of the day


Game 4 (WAS 2-1), Washington Capitals at New York Rangers , 7:30 p.m. ET (NBCSN): This is another series where every game has been tightly contested, neither team clearly better than the other. So far the home-ice standard has held up and there's no denying the Rangers looked much better in Game 3 at MSG, but all games have been there for the taking.
What you wonder going into this Game 4 is if the Rangers feel like they have a monkey off their backs, that they were finally able to beat Braden Holtby and win a special-teams game against the Capitals. The struggles in the first two games to do anything offensively are a complete thing of the past if they get this series back to DC at 2-2.
Worth watching in this game will be Alex Ovechkin 's ice time. The Rangers made some suggestions that perhaps he was a little worn down in Game 3 when he logged more than 20 minutes of ice time. Whether that was true or not, coach Adam Oates gave the Caps a day off on Tuesday to recharge their batteries. Will it lead to a fresher Ovechkin and Capitals team?
Honorable mention


Game 4 (BOS 2-1), Boston Bruins at Toronto Maple Leafs , 7 p.m. ET (CNBC): Don't let the 5-2 Bruins win in Game 3 fool you, the game wasn't that out of hand. The Maple Leafs generated more shots than the Bruins, a rarity for Toronto this season.
The chess match between coaches Claude Julien and Randy Carlyle will surely continue as the Bruins try to mirror Phil Kessel every shift with Zdeno Chara . This series has done more to validate Chara as the league's true best defenseman than anything else; he's been the focal point.
Well, that and faceoffs. There has been a lot of griping about "cheating" on faceoffs so I guess there's something extra to watch for, as fun as they may or may not be.
Snap shots
•  The Wild are not finding it any easier to score a little more vs. the Blackhawks. Not such a big surprise there. (Minneapolis Star-Tribune)
•  Trade Cory Schneider instead of Roberto Luongo ? Yup, the Canucks must have flamed out early. (Edmonton Journal)
•  This is about as angry as you will see a Sedin twin, in this case Henrik, about a penalty. "I shouldn't say it right now, but it's a [expletive] call." The call he was referring to put the Sharks on the power play in overtime when they won Game 4 and swept Vancouver. (National Post)
•  Jaromir Jagr is enjoying every minute of the postseason even if he plans to play more. You never know how many games you have left. (ESPN.com)
•  Should be no surprise based on the season he just had, but the Blue Jackets are busy trying to re-sign Sergei Bobrovsky . (Columbus Post-Dispatch)
Five for Fighting Every day, we'll have a top-five list that is pretty self-explanatory, all in this man's opinion. Today: Best "extracurricular" story lines.
No. 5: John Tortorella press conferences. He's not forthcoming or very helpful to the media, particularly after losses, but it's still always interesting. Even when he's talking he's asking for help on getting out.
No. 4: Faceoff fights. Thankfully the Kessel vs. Boston stuff has subsided some but this has filled the void: complaints about faceoff etiquette between the B's and Leafs.
No. 3: "Big-boy hockey." I still don't love the term but this has been the title given to the Blues-Kings. It's physical and grinding. Call it what you want, but it's been fun.
No. 2: Embellishment barbs. Complaining about diving is definitely overdone at this point in the NHL but the Sharks responded to the Canucks in awesome fashion. These fans especially.
No. 1: Growing Habs-Sens feud. It started in Game 1 and certainly hit an apex in Game 3. Now the series goes back to Montreal with a Habs team against the wall after another stinging loss. Yes, it could get ugly again.
Show Comments
Hide Comments
Ottawa's defense came up big in Game 1 to beat New York, and the Penguins beat the Capitals...

Series schedules, results and updates from the second round of the Stanley Cup race

Subban had three points in Nashville's 4-3 win over St. Louis in Game 1, while Edmonton dropped...
Washington and Pittsburgh figure to go neck and neck, as do Anaheim and Edmonton

Cassidy went 18-8-1 after replacing Claude Julien in 2016-17

With the playoff field cut in half, the stakes keep getting raised