Quest for the Stanley Cup: Sharks-Canucks, most important goalies
The last series out West gets started Wednesday in Vancouver, where eyes are on Cory Schneider.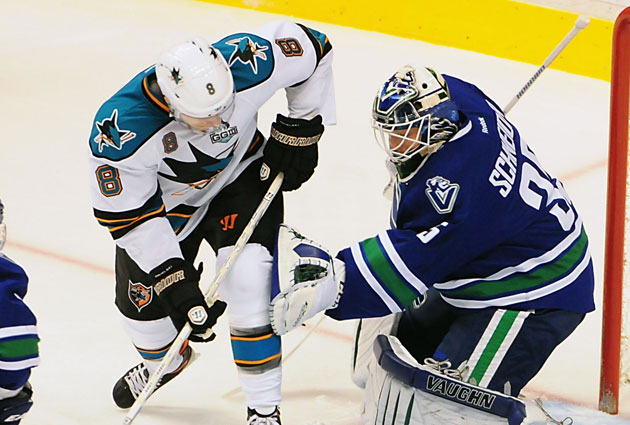 More NHL Playoffs: Scores | TV Schedule | Expert Picks | Odds | Mock Draft | Rumors
First Star Game of the Day
Game 1, San Jose at Vancouver, 10:30 ET (NBCN): A very intriguing series begins with a pretty important question to be answered -- is Cory Schneider ready to go for the Vancouver Canucks ? It's one thing if he plays, but it's another to see how well he plays, if he's limited by his "body injury" that the Canucks have been so coy about.


It would be a small surprise if Schneider did not play -- it's the Stanley Cup playoffs, after all -- but if he can't then they turn to Roberto Luongo . Normally, teams would love to have a backup like Luongo, but he's coming off a rough finish to the season where he was hung out to dry for seven goals in the finale vs. the Oilers. We've seen what Lu can do, but Schneider is the man in Vancouver now, and it's imperative they get him healthy.
Getting Schneider back is especially important because the San Jose Sharks have been playing much better offensive hockey for some time now. That flip in production not-so-coincidentally occurred with the switch of Brent Burns from defenseman to forward. It's not necessarily that he has been lighting it up -- but that the guys he is playing with have. You give a little more scoring to a goalie who has played the way Antti Niemi has this season and you have a potentially dangerous team in San Jose.
These have been two of the most disappointing franchises in the NHL in the last decade. They have both had great regular seasons but combined, they have only one appearance in the Stanley Cup Final to show for it in that time. Two teams enter this series, obviously only one can leave and like any series, the first game will tell a lot. If it's anything like the other three Western Conference Game 1s, it's going to be worth watching.
One other interesting factor to watch besides the goaltending situation in Vancouver is how the Canucks look after getting a lot of rest down the stretch. It's the old rest vs. rust question.
Second Star Game of the Day


Game 1, Toronto at Boston, 7 ET (CNBC): There are storylines galore in this one, such as the Toronto Maple Leafs being back in the playoffs, Phil Kessel vs. Boston or the Boston Bruins trying to find their footing again. Those are all well and good but the hockey might be its own story.
If you like a physical series, than this one should be for you. The Bruins and Leafs both employ a lot of big bodies who love to use their size. The key for Toronto will be to rely more on possession players to get the puck out of their own zone than to beat the Bruins up on the boards. Boston has been a team in a slump lately, so Toronto shouldn't be interested in giving them the Bruins time in the offensive zone to try to find their game again.
The big thing for the Leafs in this game is how they play in the opening period. For many guys on the team it's their first playoff game and they're going against a very experienced Bruins team, in Boston. Surviving the first period or two not necessarily on the scoreboard but just by playing good hockey is imperative.
Third Star Game of the Day


Game 1, NY New York Islanders at Pittsburgh, 7:30 ET (NBCN): Welcome back, Isles.
There still has been no official word, but indications are that Sidney Crosby will not be cleared in time to play for the Pittsburgh Penguins . They still have plenty of talent around him, though.
One thing a lot of people don't necessarily realize about the Penguins is that since the trade deadline -- or about the time Crosby was hurt -- the Penguins have been winning a lot but not necessarily playing great hockey. They've been doing a lot of the chasing of the puck, not the other way around. When the Isles are on they can make teams chase, especially when that top line with John Tavares can get set up in the zone.
The big battle: Evgeni Nabokov vs. Pittsburgh's plethora of scorers. The Islanders need Nabokov to be huge from the opening faceoff in this series.
Snap Shots
•  Speaking of the Penguins, a really good breakdown of how the Pens fixed their defensive woes through their system. (The Hockey Writers)
•  One sleeper on every playoff team in the East and in the West from Sportsnet.
•  If teams still have designs on trying to get Shea Weber from Nashville, the defenseman says he's committed to the Preds and their rebuilding process. (the Tennessean)
•  Jordan Staal 's first season in Carolina is in the books. What's to come for the next few seasons? (Sun Belt Hockey)
•  The top 10 plays of the season as broadcast by TSN.
Five for Fighting
Every day, we'll have a top-five list that is pretty self-explanatory, all in this man's opinion. Today: Top five goalies being counted on the most.
Honorable mention: The Wild's duo. Whether it's Joshua Harding or Niklas Backstrom , they need to be their absolute best. No complaints about Harding last night.
No. 5, Jonathan Quick : His Game 1 gaffe aside, Quick was close to brilliant vs. the Blues. They need that from him all the time; he was the only missing link to a really strong regular season in LA.
No. 4, Cory Schneider: The Canucks need him healthy. There is a reason why he was given the No. 1 spot in Vancouver. They haven't scored as much this season, so getting the goaltending is that much more important.
No. 3, James Reimer : The Leafs might not be here if it weren't for Reimer and that same logic will hold true when talking about Round 2: They won't get there without him. They give up a lot of shots; it's up to him to stop them.
No. 2, Evgeni Nabokov: Like Reimer, Nabokov is imperative for the Islanders. If they want to stand a chance of upsetting the Penguins then it will have to come from him. He gets peppered.
No. 1, Craig Anderson : To expect him to keep up his regular-season stats is asking a lot, but he has to continue to do it. The Sens have lived off not giving up goals this season. Scoring hasn't been plentiful.
Show Comments
Hide Comments
Replicating its Game 6 dominance -- everywhere but the scoreboard -- might not be easy for...

Ottawa recovers from a 7-0 loss in Game 5 to quiet Pittsburgh's offense

Series schedules, results and updates from the Eastern and Western conference finals
Out for the remainder of the postseason, Johansen is still part of the Predators' playoff...

Nashville refuses to back down despite taking fewer than 20 shots against fill-in goalie Jonathan...

Anaheim will be without two key forwards and possibly its No. 1 goalie in Nashville on Mon...