Rangers can't keep up with Bruins in Game 2, get steamrolled
The Boston Bruins were great in transition in Game 2, not giving the Rangers much chance to play their game, and waltzed to a 5-2 win.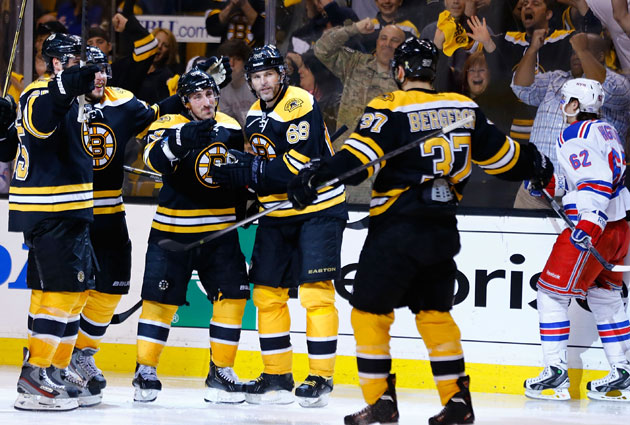 More NHL Playoffs: Scores | TV Schedule | Expert Picks | Odds | Mock Draft | Rumors
As the old saying in hockey goes, you're never in trouble until you lose on home ice. The Rangers haven't even had the opportunity to do that yet so perhaps it's a bit premature, but you have to wonder if this team is in real trouble.
The Boston Bruins really took it to the Rangers in Game 2 on Sunday, especially taking advantage of the Rangers in the third period en route to a 5-2 win, a convincing statement this early in the series. Boston was rolling four lines that were all competing and showed no signs of a dropoff with three rookie defensemen skating out. They finally showed the potential that everybody has been waiting to see from them all season long: to be a dominating and punishing team.
It's funny that it has taken a couple of injuries to help them get to this point but that's part of what has happened. The impact that Matt Bartkowski and Torey Krug in particular have made has been substantial. It was nearly impossible to remember Krug still hasn't even played 10 NHL games yet when watching him go to work on Sunday; he was phenomenal.
Thanks to the play at the back end, the Bruins were able to push things a bit more than normal. They were getting up in the offensive zone, being aggressive and making life not fun for the defense or Henrik Lundqvist. A lot of times, whether it was through passing or just looking to get up ice, they weren't allowing New York to do what it does best: clog up the lanes and block shots.
The Rangers didn't respond particularly well to the increased tempo and pace the Bruins threw at them. They played well in the second period but were out of their rhythm in the third and the B's poured it on.
You don't have to go back more than a couple of weeks to see that the Rangers are not in unfamiliar territory here. They lost the first two games in Washington as well but went on to win the series in seven games. Surely they are not dead in the water and will not just roll over for the Bruins.
With that said, they have to figure something out, a way to slow Boston down and get better defense. It's incomprehensible to think Dan Girardi was on ice for all five Bruins goals. It shows you they were a bit out of their comfort zone, out of what they like to do. Boston was fantastic in transition and New York wasn't, and that was a major factor in the game.
A perfect demonstration was Brad Marchand's goal in Game 2. Which looked awfully similar to the OT winner in Game 1, a transition pass to the front of the net from Patrice Bergeron.
There's a definite chink in the armor for the Rangers that the Bruins are hitting. It has resulted in eight goals in two games and a more open series than we anticipated. Claude Julien's team isn't allowing this game to be played John Tortorella's way.
Another piece of evidence to support that is the fact that Boston has four goals from defensemen in two games. The Rangers pride themselves in blocking shots. Attempts from the point don't often get through, and when they do Lundqvist has little trouble with them. Boston is getting attempts often before the Rangers have even had a chance to get set up.
It's no secret the Rangers have been better at home lately, winning nine straight at the comfy confines of Madison Square Garden. But right now just returning home won't be enough to solve the riddle that has been Boston's ability to get up ice in a hurry.
The league shoots down a report that NHL players could still be permitted to go to the Oly...

The 45-year-old forward remains unsigned but has shown little desire to hang up the skates

Pittsburgh also has been linked to Matt Duchene and could be in the mix for Tyler Bozak
Nashville extends its 24-year-old restricted free agent with what could be bargain numbers

Calgary forward is all for playing for the Flames, but he also likes the idea of going to...

Plans for renovating KeyArena are now also being overseen by NHL-to-Seattle hopefuls