Rangers-Devils game at Yankee Stadium delayed by sun glare
The Rangers and Devils are going to have a later start than expected as the Yankee Stadium game start has been delayed due to sun glare.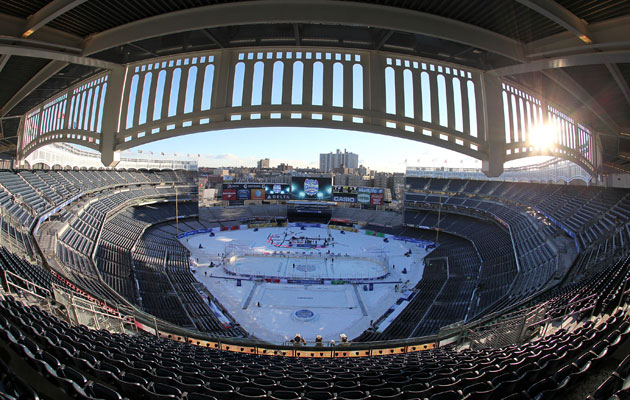 More NHL: Scores | Standings | League Leaders | Odds | Injuries | Power Rankings
The start of the Stadium Series game between the New Jersey Devils and New York Rangers at Yankee Stadium on Sunday has been delayed.
All it took was one look at the ice this morning at Yankee Stadium to see that the sun and ensuing glare was going to be a major factor in the game. The glare is so strong that in the name of safety, the NHL announced the game will have a delayed start time, a time which was not announced.
#NYR ALERT: The start of today's game is being delayed due to sun glare on the ice here at Yankee Stadium #NYRally

— New York Rangers (@NYRangers) January 26, 2014
That's news you don't hear often in the NHL and certainly something that will pop up when you take the game outdoors. But this isn't the first time this has happened. The game at Philadelphia's Citizen's Bank Park two years ago between the Rangers and Flyers was delayed two hours from its original starting time for the same reason.
The concern isn't with the ice or anything in that regard, it's simply about the sun shining into the eyes of goaltenders and other players. The last thing the NHL wants to see in its outdoor spectaculars is a player taking a puck to the face because he simply couldn't see it with the glare.
UPDATE: The NHL announced that "festivities" will resume at 12:50.
Kevin Clark announces: "Today's events will begin at 12:50." #StadiumSeries #NJDevils

— New Jersey Devils (@NHLDevils) January 26, 2014
If we learned anything from Saturday's game in Los Angeles that went off without a hitch, that means the game itself will probably start around 1:30 or so (NBC announcer Doc Emrick announced the puck will drop at 1:38). Not much of a delay but a delay nonetheless. Hopefully that will be the last of the problems at Yankee Stadium.
Show Comments
Hide Comments
For first time since 2005-06, Edmonton is headed for a Stanley Cup run

With loss to Hurricanes, Detroit eliminated from postseason contention for first time since...

Flames-Capitals would pit underdogs vs. title favorites, while Pens-Oilers would showcase elite...
The Ducks are outshining their Pacific competition, while the Habs and Predators offer lots...

Big losses by the Sharks and Blackhawks have Washington back on top

On day he signs entry-level deal with Canucks, Boeser scores Vancouver's third goal in 4-2...