Rangers offense still nowhere to be found on the road
The Rangers lost Game 5, 2-1, another night of their offense being mostly gone. To win the series, they'll have to score on the road.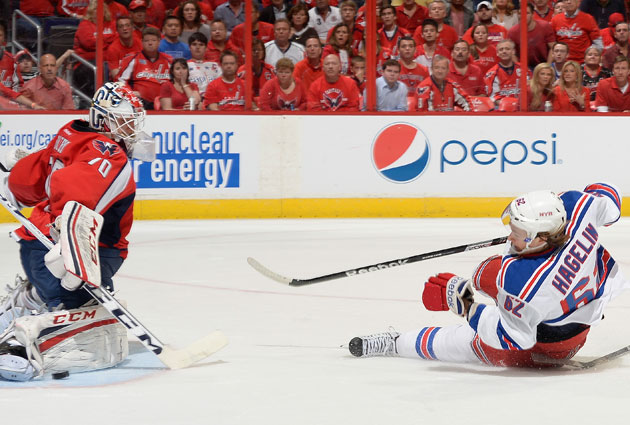 More NHL Playoffs: Scores | TV Schedule | Expert Picks | Odds | Mock Draft | Rumors
WASHINGTON -- It's not an incredibly far trip from New York City to Washington D.C. -- less than four hours by car -- but it appears to be too long for the Rangers' offense to make.
Through five games, the battle between the Capitals and Rangers is the only series that can make the claim that no team has won on opposing ice after the Caps took out New York 2-1 in overtime on Friday night. Washington leads 3-2 with the series headed back to Madison Square Garden on Sunday. It feels inevitable the series will return to D.C. for a Game 7.
It's no secret that there's an advantage to playing at home in any sport, but it's hard to simply dismiss the Rangers' home/away splits in this series. In Washington, they have scored two goals in three games. In two games at MSG, they scored eight.
What exactly is the big difference? The rink is the same size. The teams are the same as are the goaltenders. So what precisely is it about playing on the road that makes a three-goals-per-game difference?
"I don't think there's any rhyme or reason to it," Rangers captain Ryan Callahan said. "I don't think it's the building or anything; it's just a matter of the puck not going in the net. I thought we didn't create enough chances, but at the same time, it's a matter of getting bounces and the puck going in for you."
Perhaps it's luck, but it's a really long stretch of bad luck. This season, the Rangers scored 22 fewer goals away from MSG than they did at home, nearly a goal per game. It's even more stark in this series.
It didn't look like it was going to go that way when the game began. In the opening minute, on their first shot of the night, the Rangers took the 1-0 lead. Brian Boyle took a pass from Derick Brassard right in front of Braden Holtby to score just 53 seconds in. They wouldn't score again.
The lack of offense was never more apparent than in the third period. Until the final few minutes of a tie game in regulation, the Rangers were being outshot 13-1. Again, to stress this point, it was a tie game and the offense was gone. At that rate, you aren't playing to win but more to not lose. That's not to say the Rangers sat back; they just didn't have the drive. It did show up in overtime, though, when things were frantic before Mike Ribeiro ended it with his goal.
When it was all said and done, the Rangers had just 25 shots on goal in nearly 70 minutes of game time, just 18 at even strength.
"For our team, it did go downhill [after the first period]," Rangers coach John Tortorella said. "We had a couple chances in overtime. Third period we didn't have much. That's the way it worked out."
From the Caps' perspective, they were feeding off the crowd a bit, yes, but Holtby didn't notice any drastic changes.
"I don't think our efforts were that bad in New York before. It's just that they got a couple lucky bounces to go in, a couple mistakes," he said. "I don't think our effort has varied very much through the whole series."
Though Holtby did add that he felt like the Rangers had as many attempts; they just weren't getting to the net through the Capitals players. Washington did block 30 shots. In general, though the Rangers didn't have a ton of excellent chances until the overtime, when juicy rebounds were lying around for both teams, the offense wasn't there.
You can't talk missing offense without mentioning the star forward on the Rangers, Rick Nash. He played 20:05 on Friday night and only had two shots on goal (only three total attempts), going pointless once again. In five games, he has a single assist. The Rangers gave up some secondary scorers to get him but reacquired that depth at the trade deadline in exchange for Marian Gaborik. It was supposed to supplement Nash. Bt in this series, he has not given them anything to supplement.
His play home vs. away has been emblematic of the Rangers. Now they head back home to what are apparently the very comfortable confines of MSG with their backs against the wall.
"I think [this is] when you have to play your best, when you find yourself in a situation like this," Callahan said. "We don't have to look too far back to look how we have to respond and how we have to play."
Callahan was referring to last postseason, when the Rangers had to go on the road in Game 6 at Ottawa. They prevailed there and won the series in seven.
Despite the fact that the players almost seemed to embrace the idea of heading home with their proverbial backs against that wall, Tortorella doesn't want them to view it that way.
"I don't consider it an elimination game; we're trying to win one game," he said. "I'm not going to even use that word. So we'll go home and try to win a game."
The aim is to keep the series alive for one more return trip to Washington.
"We're going to feed off the crowd, and it's going to be a big game for us," Brassard said. "We're going to eventually need to win a game on the road to win the series. That's what we're going to do."
That, of course, is the goal. But to achieve it, they're going to have find a few more goals in Washington. Two in three games isn't going to cut it.
Show Comments
Hide Comments
Washington and Pittsburgh figure to go neck and neck, as do Anaheim and Edmonton

Cassidy went 18-8-1 after replacing Claude Julien in 2016-17

With the playoff field cut in half, the stakes keep getting raised
Green has led Vancouver's AHL affiliate since 2013

Series schedules, results and updates from the second round of the Stanley Cup race

Here's how to stay on top of all of the NHL's second-round playoff series, which begin Wed...