Rangers on brink of elimination but offense already gone
The New York Rangers scored twice in Game 4 but generated only 15 shots, going 0-fer on the power play again. The offense and their stars are missing.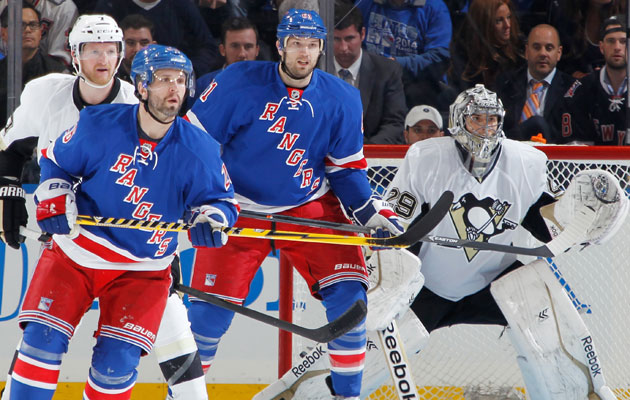 More NHL Playoffs: Schedule, TV listings | Expert Picks | Bracket | Scores | Odds
While the New York Rangers are still alive, they are on life support in their second-round series with the Pittsburgh Penguins. It's not very hard to spot the issue.
They just can't score. The one area where some teams rely when they are in an offensive funk, the power play, is non-existent.
Time after time the Rangers struggle to do the simple things on the man advantage. They have a tough time entering the zone. When they carry the puck in, it's more often than not chipped away by the defenders and back out. If they dump it in, the forecheck has a tough time retrieving it. And when they actually do get the puck in the zone and under control, it's a stagnant group that isn't getting many Grade-A chances.
It's no wonder they haven't scored a power-play goal in the past 36 attempts. That, by the way, ties a Stanley Cup Playoffs record for futility. The good news there is that they are actually in select company with the power-play droughts (this stat was shown before they went 0-for-2 in Game 4).
May 8, 2014
Certainly that goes to show you can win in the playoffs if you don't have a power play, that's true. So while the power play is an obvious issue and a concern, it's not all that is holding the Rangers back right now.
No, that would be the difference between those teams and this Rangers team; they were scoring plenty of goals at even strength. The Rangers did get two goals in Game 4 to move their total to four in four games against Pittsburgh but they were consistently lacking true threats.
We mean threats in terms of actual scoring chances but it stands for individual players as threats, too. No player is coming under harsher criticism than Rick Nash right now. The Rangers' star forward had one goal and four assists in 12 playoff games last year and he's having an equally disappointing postseason this time around, except he doesn't even have that goal to show for his efforts in 11 games this time around.
Things are so bad right now for Nash that he was booed coming up the ice by the home crowd (video via PHT).
For what offensive chances they have had, Nash has actually been producing much of it. In Game 4 he had four of the Rangers' 15 shots on net, bringing his total to 45 this postseason. No doubt he's a bit snake bit -- all you have to do is look at his odd-man rush where he elected to shoot but just before firing the puck hopped on him, causing his shot to go wildly wide.
But he also had a terrible turnover in the neutral zone that led to the shorthanded goal for the Penguins and is overall the face of the struggles for this team right now.
Nash certainly knows he's struggling.
#NYR winger Rick Nash was asked whether this was the most frustrating moment of his career. Nash responded: "Yes, by a lot."

— Sean Hartnett (@HartnettHockey) May 8, 2014
But it's not just him, of course, there are other guys on the team too and they aren't doing much either. Martin St. Louis admitted he had a rough outing, Brad Richards is just as quiet or more so than Nash.
It's almost like the Rangers' stars are Marty McFly's family in the photo; vanishing before our very eyes.
None of this is to stay the defense isn't without reproach right now for the Rangers, they aren't having particularly strong series either. There is enough blame to go around, as you might expect of a team that just lost two games in a row at home in the playoffs. But a woeful power play has begat a woeful offense and is leading to one woeful series for the Blueshirts.
Show Comments
Hide Comments
With the playoff field cut in half, the stakes keep getting raised

Green has led Vancouver's AHL affiliate since 2013

Series schedules, results and updates from the second round of the Stanley Cup race
Here's how to stay on top of all of the NHL's second-round playoff series, which begin Wed...

Series schedules, results and updates from the first round of the Stanley Cup race

Ottawa took a 3-2 decision to send Boston home, and Washington outlasted Toronto, 2-1