Ratings hit: Blackhawks double Cubs-White Sox in Game 6
Game 6 of the Blackhawks-Red Wings playoff series on Monday night in Detroit doubled the TV ratings in Chicago of the White Sox-Cubs game and set a record in Detroit. What lockout?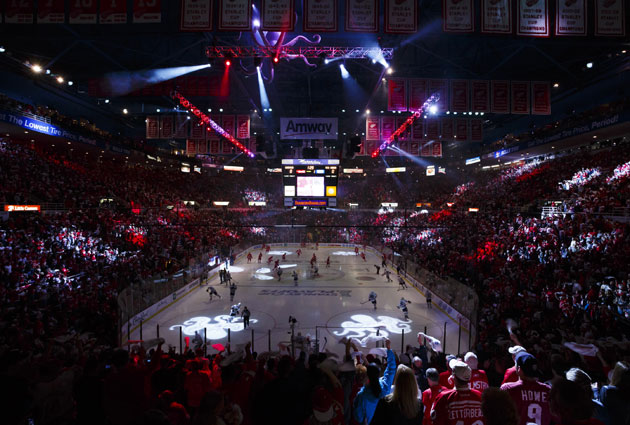 More NHL Playoffs: Scores | TV Schedule | Expert Picks | Odds | Mock Draft | Rumors
For yet another reminder that the NHL not only survived the lockout but actually continues to gain ground, the Chicago and Detroit TV markets turned in monster ratings for Monday night's Game 6 clash of the Blackhawls-Red Wings playoff series.
In Chicago, the hockey game on NBC Sports Net was going up against the always hot Windy City Series in baseball. That would be the interleague matchup of the White Sox and Cubs on the diamond, a rare occasion that has become more common but still draws a lot of interest in Chicago. The Blackhawks-Red Wings rating smashed the baseball game.
Game 6 of the Hawks-Detroit series did a 13.45 local rating on NBC Sports Network; 1 local rating point is the equivalent of approximately 35,000 homes. Meanwhile, the Sox-Cubs did a combined 6.53 rating on WGN-Ch.9 and Comcast Sports Net.

The Hawks rating was the highest ever in Chicago for a conference semifinal game and behind only their two Stanley Cup Final games on NBC Sports Network in 2010.
Here is your customary reminder that a rating represents the number of registered households tuned to a certain event (a share, not represented here, would be the number of TVs in use at the time tuned to an event).
That's a strong number in a big city like Chicago regardless of what else is going on, even more impressive when you consider it was in direct competition with two Chicago baseball teams in one game. So much for the city of Chicago's support of the Blackhawks being fleeting or a mirage after their Stanley Cup run a few years ago.
Remember, ratings can't take into account the amount of people watching in groups at parties or bars. The raw number indicates that somewhere around 470,000 were watching before you consider the multiple viewers per television set.
In Detroit, the results were even better.
Game 6 drew a 15.9 in Detroit. That's the highest-rated game ever on NBCSN in the market. That includes the 2008 and 2009 Stanley Cup Final.

— Steve Lepore (@stevelepore) May 28, 2013
That was with a full arena in downtown as well as a competing telecast by the CBC in Detroit. So, yeah, there are a lot of people watching.
Just wait for Game 7 on Wednesday night, when there will be no baseball game in Chicago to compete with for viewers.
From Jonathan Drouin to Artemi Panarin, here's a look at the biggest trades of the offseason...

Pittsburgh sits atop them all as the repeat champs, while Nashville rises up after its big...

Islanders could also be loading up for scoring talent, and Vegas has plenty of D-men to se...
Fired by Dallas this offseason, Ruff is expected to replace Jeff Beukeboom

Even without a can't-miss prospect, the first round features a handful of solid center pic...

Casey Mittelstadt goes off the board in the top 10 picks of the 2017 NHL Entry Draft