Report: Kris Letang turns down contract offer from Penguins
Pittsburgh Penguins defenseman Kris Letang has reportedly rejected a long-term contract offer with the team that would pay him $56 million.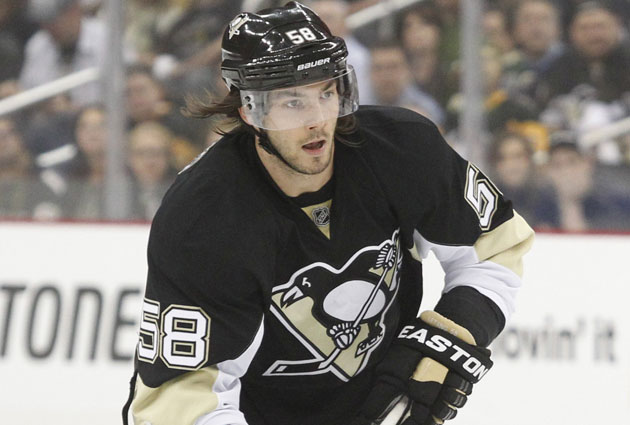 More NHL offseason: Rumors | Top 50 Free Agents | Top 50 Prospects | Mock Draft
The Kris Letang trade watch in Pittsburgh might be officially on.
Rumors were already swirling heading up to this weekend's NHL draft, and now comes a report from ESPN's Pierre LeBrun that Letang has rejected Pittsburgh's contract offer of $56 million over eight years.
Hearing that Letang camp informed Penguins earlier tonight that they were turning down an 8-year contract offer worth around $56 million...

— Pierre LeBrun (@Real_ESPNLeBrun) June 28, 2013
LeBrun added that Letang's camp responded with an eight-year proposal that would have paid Letang $7.5 million per year, but that the Penguins considered that to be too high.
There has to be more to it than $500,000 a year being such a sticking point.
This is taking on the exact same feel as the situation Pittsburgh faced last summer with center Jordan Staal. Player entering the last year of his contract and a rumored long-term offer that was rejected gets leaked. That situation ended with the Penguins trading Staal to Carolina for center Brandon Sutter, defense prospect Brian Dumolin, and the No. 8 overall pick in the draft (which the Penguins used on defenseman Derrick Pouliot).
The problem the Penguins are going to face if they end up dealing Letang is it's going to make an already weak defense even weaker. Even with Letang the Penguins were still going to need another top-four defenseman this offseason. Without him, they're going to need two. It's entirely possible that any potential trade could bring a defenseman back in return but the likelyhood of that player being Letang's equal is pretty slim.
Letang didn't have a great showing in the postseason, especially in the Eastern Conference Final, but that shouldn't overshadow what's been three or four years of him being an impact player.
Tough situation for Penguins general manager Ray Shero to be in.
The third option (after signing him or trading him) is one that the Penguins probably wouldn't consider, but they could keep him for one more year, take another run with him as one of their top defenseman, and let him walk as a free agent after the 2013-14 season when some of their young defensemen might be ready to step into a bigger role.
Show Comments
Hide Comments
Our Latest Stories
2017 SAHP NHL Global Series will pit Ottawa and Colorado against each other in Stockholm

Finland has churned out some winners in a league filled to the brim with diverse players

From the Caps' goaltender to the star-studded headlining duo of Chicago's offense, these guys...
Scoring his 41st goal of the year in a 3-1 win over the Buffalo Sabres, the Pittsburgh Penguins...

A nightmare comes to life with Gary Bettman downplaying the idea of sending NHL stars to South...

The resurgent Lightning are primed to sneak into contention, while the once-hot Islanders are...