Report: Mario Lemieux may order Dan Bylsma's dismissal in Pittsburgh
Is Dan Bylsma safe in Pittsburgh? A report suggests Penguins chairman Mario Lemieux could instruct the coach to be fired.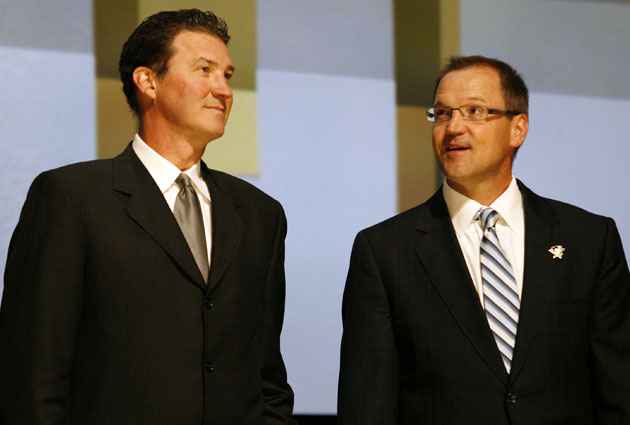 More NHL Playoffs: Scores | TV Schedule | Expert Picks | Odds | Mock Draft | Rumors
The Pittsburgh Penguins were swept in the Eastern Conference finals by the Boston Bruins, the fourth straight season they failed to reach their lofty goal of making the Stanley Cup Final.
That has some asking about coach Dan Bylsma's job security. Should he, despite all of this team's regular-season success and the Stanley Cup on his resume from four years ago, be shown the door? It seems a bit silly to me but it could very well happen, especially if Mario Lemieux wants it to happen.
Which could very well be the case, according to Larry Brooks of the New York Post.
Several individuals within the industry have told Slap Shots Penguins chairman Mario Lemieux, distressed by his team's fourth straight failure to get out of the Eastern Conference after consecutive trips to the Finals in 2008 and 2009, the latter culminating with a Stanley Cup victory, may instruct Shero to dismiss the coach.

There already is chatter out of Pittsburgh about how the Penguins failed to "adapt" or "adjust" to the Bruins in the Eastern finals sweep -- during which they never held the lead, were limited to two goals overall and were shut out on the power play. All those areas generally are the purview of the coaching staff.
To me it seems a bit rash to fire Bylsma, but something is going to change because with their expectations, the past seasons have been disappointments. We all know it's easier to fire the coach than the team, and if that's what Lemieux wants, it likely won't matter what GM Ray Shero would have to say.
Show Comments
Hide Comments
Our Latest Stories
Once the most favored potential Stanley Cup winner, Chicago has fallen behind Washington,...

In the first big move before the NHL's March 1 trade deadline, both teams benefit from Stone...

Avalanche center tops the pool of big names dropped in trade rumors this season
Here's how to catch this year's Battle of Pennsylvania featuring the Flyers and Penguins

As March draws closer, a number of teams have strengthened their case for a run at the Stanley...

Duquesne University students show off hockey in skills while chasing a rat from their hous...