Report: Miikka Kiprusoff expected to remain in Calgary
Calgary Flames goaltender Miikka Kiprusoff is likely to remain with the team.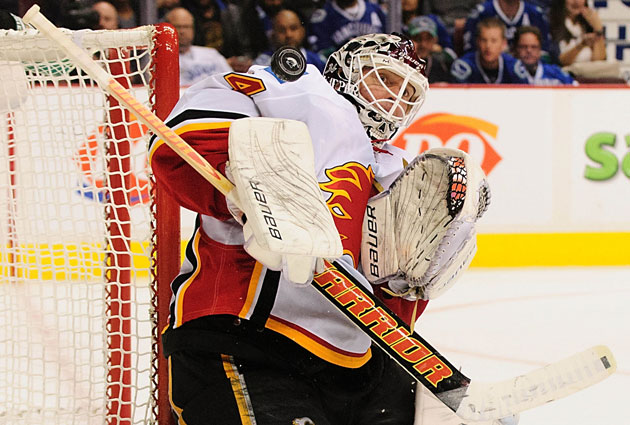 After being mentioned in trade rumors over the past couple of weeks goaltender Miikka Kiprusoff is expected to remain with the Calgary Flames, according to reports from TSN's Darren Dreger and Sportsnet's Roger Millions.
Dreger adds that Kiprusoff could retire after the season.
This, of course, is good news for the Toronto Maple Leafs. Yes, that's right. The Maple Leafs. Toronto was the rumored destination for Kiprusoff, and it just never made any sense given how much he has struggled this season and how good Toronto's two young netminders -- James Reimer and Ben Scrivens -- have performed this season.
And that doesn't even take into account the sizable cap hit Kiprusoff would have brought with him to Toronto (or any other possible destination).
Kiprusoff has been with the Flames since the start of the 2003-04 season. He's having what has been statistically the worst year of his career at age 36. In 18 appearances, he has posted a 6-10-2 record to go with a league-worst .868 save percentage.
Show Comments
Hide Comments
Ottawa recovers from a 7-0 loss in Game 5 to quiet Pittsburgh's offense

Series schedules, results and updates from the Eastern and Western conference finals

Out for the remainder of the postseason, Johansen is still part of the Predators' playoff...
Nashville refuses to back down despite taking fewer than 20 shots against fill-in goalie Jonathan...

Anaheim will be without two key forwards and possibly its No. 1 goalie in Nashville on Mon...

Pittsburgh makes a fool of Ottawa's top-line defense with four goals in the first period a...