Report: NHL to mull 10-game ban for goalies leaving D zone to fight
The days of the goalie fight may be done. After the Ray Emery-Braden Holtby incident , the NHL will reportedly consider a 10-game suspension for goalies leaving their zone to fight.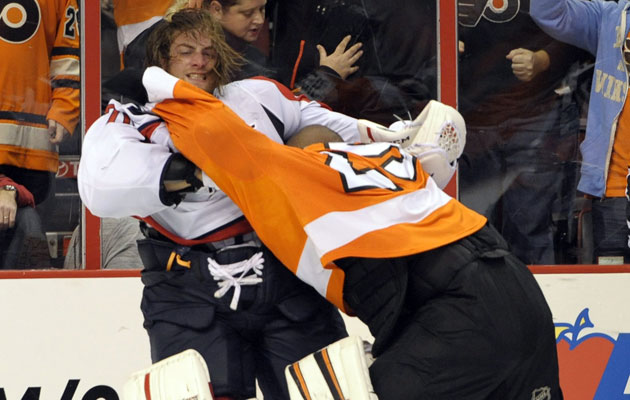 More NHL: Scores | Standings | League Leaders | Odds | Injuries | Power Rankings
Ray Emery might have ended the goalie fights for good in the NHL.
After the Flyers goaltender skated the length of the ice and goaded Washington Capitals goalie Braden Holtby into a bout, it didn't look very good. It especially looked worse after Emery pounded and pounded some more on Holtby with blows to the back of the Caps goalie's head.
Commissioner Gary Bettman admitted he didn't like the way it looked and didn't think many others did as well. He then said that the league would take a deeper look at the rules after there was nothing that could be done to give Emery any supplemental discipline.
What exactly could the league look at doing? Well according to Gary Lawless, the league could look at suspensions of 10 games for goalies who cross center ice to fight.
League sources tell me #NHL will discuss 10-game suspension for goalies leaving their zone to fight much like player leaving bench rule #bn

— gary lawless (@garylawless) November 4, 2013
Already this is being dubbed the Ray Emery Rule, even if it's just an idea at this point.
Now if this is a proposal the league will indeed consider, it's tough to believe they would simply make this a clear cut rule across the board. If the two goaltenders are willing combatants and meet at center ice or at least in the neutral zone, should they be subject to the same punishment as Emery would in this theoretical situation? It's well known that people love a good goalie fight; would the league really want to eliminate something that is already as rare as a John Scott goal? Because that would the impact of such a rule as this.
It's going to be a while yet before anything would even get done on this. The GMs will have to discuss it at their next GM meetings and even then it might move slowly. But at the very least it's clear that the NHL is going to further look at the rules regarding this so it doesn't happen again because what the Emery-Holtby scene became could hardly be called a fight.
If this comes to fruition I think all hockey fans will be unanimous in the thought of "Way to go Ray and ruin the goalie fights for the rest of us."
Show Comments
Hide Comments
Washington and Pittsburgh figure to go neck and neck, as do Anaheim and Edmonton

Cassidy went 18-8-1 after replacing Claude Julien in 2016-17

With the playoff field cut in half, the stakes keep getting raised
Green has led Vancouver's AHL affiliate since 2013

Series schedules, results and updates from the second round of the Stanley Cup race

Here's how to stay on top of all of the NHL's second-round playoff series, which begin Wed...