Report: Pat LaFontaine looking into buying Islanders from Charles Wang
Islanders owner Charles Wang is reportedly entertaining the idea of selling the team for a high price, and Pat LaFontaine might be interested.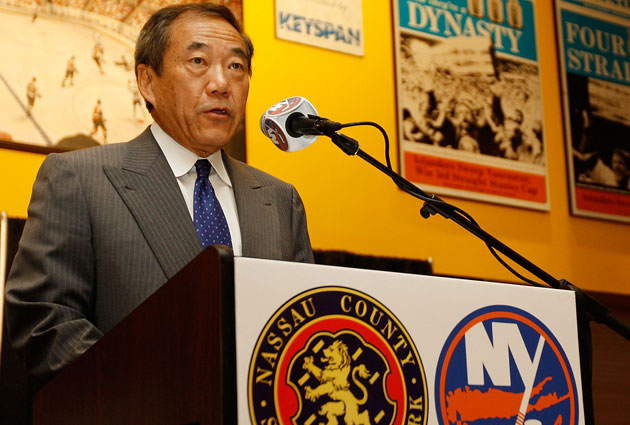 Would Charles Wang actually sell the Isles? (Getty Images)
The New York Islanders remain a franchise with an unclear future, trying so desperately to get a new arena and failing at every attempt. Their lease at the old Nassau Coliseum will be up after the 2014-15 season, and owner Charles Wang has said they won't play there after that.
At least while he's the owner.
The Islanders haven't given Wang much more than heartaches, headaches and an unbalanced checkbook since he took principal ownership of the franchise in 2004. Still, he has maintained that, even with all of the troubles that he has encountered trying to secure a new arena, he wasn't interested in selling the team. Perhaps that's changing.
According to the New York Post, a legendary Islander might be asked to ride in and be their knight in shining armor. That knight? The great Pat LaFontaine.
Pat LaFontaine has been contacted by some European investors about the possibility of buying the money-losing team and keeping it on Long Island, The Post has learned.

LaFontaine, who starred for the Islanders for eight seasons and is in the top six in goals and points in team history, is intrigued by the opportunity and may look to put together some sort of bid, sources said.

Islanders owner Charles Wang, who is seeking a new arena and has vowed not to play a single game at the aged Nassau Coliseum beyond the July 2015 end of his lease, has quietly let it be known that he is willing to sell the franchise if the price is right, sources close to the NHL said.

Now wouldn't that be something.
Before you get too excited, Islanders fans, note that it's not like Wang is just going to give the team away. The Post report states Wang would ask for $300 million. Unlike the actual Price is Right, you won't bust by overbidding (you just might bust down the road after overbidding). By contrast, the team is valued by Forbes at half that $300 million amount.
You might recall Wang and LaFontaine don't have the world's greatest relationship. LaFontaine was working in the Islanders' front office until 2006 after he resigned following the firing of his friend, Neil Smith, as the general manager. Now LaFontaine can't be found in the Islanders' hall of fame despite his presence in the Hockey Hall of Fame. Go figure.
For LaFontaine, it has to be tough. There's a possibility, though unlikely, the Islanders will move out of the New York market in a few years. It's safe to say a guy like LaFontaine, who had so many great moments playing for that franchise in Nassau County, doesn't want to see the team move.
But there are plenty of logistical issues working against him. First, there is the high asking price that overvalues the team. I can't say I blame Wang for that; if he's going to sell, he might as well try to make some money in the process, particularly if he isn't necessarily dying to get rid of the franchise.
Then you have the lack of an arena plan after 2015. If LaFontaine were to buy the franchise, would he be willing to keep the team at the Coliseum for a bit longer while they continue to try to find a solution? Some think the new arena in Brooklyn would work, but there are issues with that -- least of which is the small capacity for hockey. It's a basketball arena for the Nets, after all.
Oh, and there's the fact that the Isles lose money. A lot of it.
So you can see that, if the report is true and LaFontaine is seriously considering buying the franchise, he would have a lot to weigh. It would be a gamble bigger than hiring Mike Milbury to be your GM. Paying double the franchise's worth for a team that loses more money than games without an arena plan in place? That doesn't seem to be a savvy business move.
Based on that valuation from Wang, it seems like a move that he doesn't want to make and almost a waste of time even suggesting it. It seems like it would be pretty crazy for anybody to buy the franchise for $300 million, even somebody who has the emotional attachments that LaFontaine has.
The goal for everybody involved, Wang included, is to keep the Islanders in New York. Relocation is always the last resort. Potentially selling the Isles to LaFontaine would probably give a greater sense of comfort for Isles fans that the team will indeed stick around. It just doesn't seem likely to happen. Wang doesn't seem interested in parting with the team, only with the arena.
For more hockey news, rumors and analysis, follow @EyeOnHockey and @StubitsCBS on Twitter and like us on Facebook.
From Jonathan Drouin to Artemi Panarin, here's a look at the biggest trades of the offseason...

Pittsburgh sits atop them all as the repeat champs, while Nashville rises up after its big...

Islanders could also be loading up for scoring talent, and Vegas has plenty of D-men to se...
Fired by Dallas this offseason, Ruff is expected to replace Jeff Beukeboom

Even without a can't-miss prospect, the first round features a handful of solid center pic...

Casey Mittelstadt goes off the board in the top 10 picks of the 2017 NHL Entry Draft