Report: Sens owner meets NHL on Matt Cooke forensic investigation
Remember Senators owner Eugene Melnyk's forensic investigation into Matt Cooke? Apparently it remains ongoing as he met with the NHL.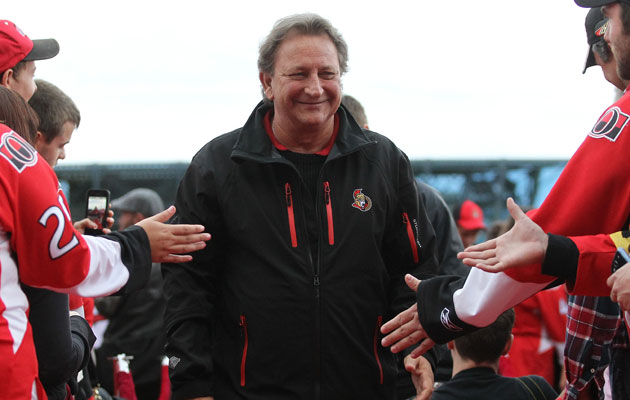 More NHL: Scores | Standings | League Leaders | Odds | Injuries | Power Rankings
Is CSI: Ottawa is back for a second season?
Last season you'll recall our detective, Senators owner Eugene Melnyk, was charging former Penguins (now Minnesota Wild) forward Matt Cooke of injuring defenseman Erik Karlsson deliberately by stepping on his Achilles' tendon to sever it. Being the hardened detective that he is, Melynk vowed to get to the bottom of the matter using forensics and that he would then present his findings to prove beyond a shadow of a doubt that Cooke was guilty.
The laugh track might have accompanied the episode but it was no laughing matter to Melnyk because apparently he is following through on his promise. TSN's Bob McKenzie has the tweets.
Interesting, on day of Torts hearing in NYC, OTT owner Eugene Melnyk, GM Bryan Murray, NHLPA exec director Don Fehr seen going into NHL HQ.

— Bob McKenzie (@TSNBobMcKenzie) January 20, 2014
It's believed they're there as part of Melnyk's forensic investigation into Matt Cooke's skate cut on Erik Karlsson last season.

— Bob McKenzie (@TSNBobMcKenzie) January 20, 2014
Melnyk maintained at time of incident that Cooke did it intentionally and vowed to prove it. NHL exonerated Cooke at that time.

— Bob McKenzie (@TSNBobMcKenzie) January 20, 2014
*Cue the dramatic music* Maybe Melnyk found what he needs to put Cooke in the penalty box.
In all seriousness, the fact that this story is still alive is pretty amazing. How Melnyk was going to prove what happened, even with the help of some form of forensic evidence as he promised, remains to be seen. Unless he was able to revisit the moment in the mind of Cooke, it's pretty impossible to prove.
And that's assuming that Cooke did it on purpose, something that I'm not willing to assume at all. Accidents happen, it was an accident. The Senators still made the playoffs and Karlsson returned and is back at full strength this season. Why this is even worth pursuing anymore is almost as big of a mystery as how Melnyk ever intended to prove this.
Who needs prime time television when you have NHL hockey?
Show Comments
Hide Comments
Ottawa's defense came up big in Game 1 to beat New York, and the Penguins beat the Capitals...

Series schedules, results and updates from the second round of the Stanley Cup race

Subban had three points in Nashville's 4-3 win over St. Louis in Game 1, while Edmonton dropped...
Washington and Pittsburgh figure to go neck and neck, as do Anaheim and Edmonton

Cassidy went 18-8-1 after replacing Claude Julien in 2016-17

With the playoff field cut in half, the stakes keep getting raised