Report: Wayne Gretzky, NHL reach settlement, league to pay Great One
More than four years after the Coyotes went into bankruptcy, the NHL has reportedly agreed to pay Wayne Gretzky what he is owed for his time in Phoenix.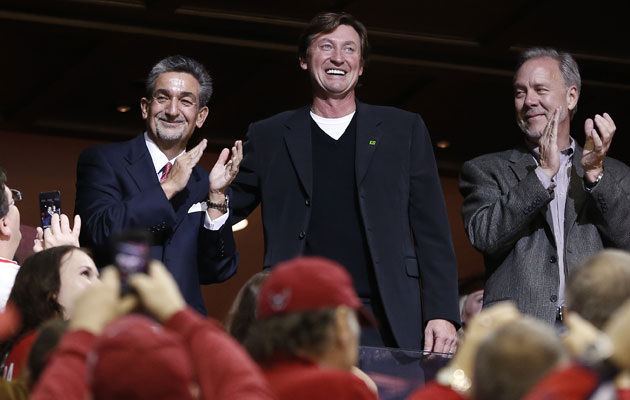 More NHL: Scores | Standings | League Leaders | Odds | Injuries | Power Rankings
It has been more than four years now but Wayne Gretzky looks like he is finally going to get what is owed to him from his days in Arizona.
Gretzky was under contract with the Phoenix Coyotes as their head coach and head of hockey operations when the team went into backruptcy and was bought by the NHL. It took the league nearly four years to find a buyer for the franchise and all the while the remainder of Gretzky's contract was unpaid, some $8 million or so that the Great One was missing out on.
Some suggested that it had led to a frosty relationship between Gretzky and the NHL even though Gretzky denied it. But it looks like it will be a moot point now:
As first reported by @Real_ESPNLeBrun NHL and Wayne Gretzky reach an agreement on outstanding money owed. I'm told ballpark $7-8 mil.

— Darren Dreger (@DarrenDreger) December 3, 2013
Obviously this has been a long-time coming. Whether or not Gretzky actually needs the money was irrelevant; it was money that he was contractually owed and something he didn't receive from the NHL after it took ownership of the team.
Honestly, it took way too long to happen. Resolving something like this with a former player of Gretzky's stature should have been done long ago, especially when we're talking about a league that boasts its revenue in the billions every season. Part of the delay was trying to figure out who would actually pay Gretzky, the NHL tried to get former Coyotes owner Jerry Moyes to dish out the cash but was shot down in that quest in court.
Apparently with the NHL signing a brand new and lucrative television deal in Canada, there was some extra cash that opened up in the budget. OK, perhaps it was just a coincidence in the timing but interesting nonetheless.
With this whole thing finally closes, it will be interesting to see if maybe Gretzky has any appetite (or opportunity) to get involved with the game a little more, if he's even interested at this point. Even if his time in Phoenix didn't go well, he's still the Great One.
Buffalo's forward suits up in Da Beauty League as he prepares to return to Sabres in 2017-...

Penguins goalie shows support for Thunder Bay's Gavin Currie

Sports Illustrated's 2017 ranking puts the two hockey stars in the top 15 of stylish athle...
The former Blues and Capitals defenseman will wear No. 22 in the Big Apple

New York's captain appears set to play out the final year of his contract in 2017-18

Bill Foley says the NHL's 31st team is sitting pretty as it builds a market for the first...