Reports: Bruins, goalie Tuukka Rask agree to one-year, $3.5 million deal
The Bruins have reportedly come to terms with restricted free agent goaltender Tuukka Rask on a one-year extension worth $3.5 million.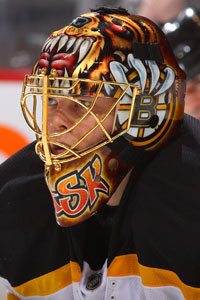 Rask will likely be the B's No. 1 next season. (Getty Images)
With Tim Thomas sitting out next season in all likelihood, the pressure was really on to find common ground and sign goaltender Tuukka Rask to a deal or risk sweating out the possibility of an offer sheet for the soon-to-be restricted free agent.
Well, the pressure is off ... for one year, at least. The Bruins and Rask have reportedly agreed to a one-year contract that will pay Rask $3.5 million. That's according to TSN's Bob McKenzie and then seconded by Jimmy Murphy of ESPN Boston.
Right now I know what you're asking: Why one season? Great question, I think I have an answer for you. Rask is very clearly the future of the Bruins, whether that's this season or down the line. Whenever Thomas is no longer a Bruin it will be Rask's job.
However, because Rask is only 25, he will still be a restricted free agent when next summer rolls around -- at least under the current CBA structure -- so the Bruins have a lot of time to work on an extension. Even though he has already shown what he is capable of doing when he handled the lion's share of the work a few seasons ago, this allows the Bruins to make sure Rask can be their guy for the future before offering him a big-time contract. They will still have the power over other teams.
Thus, it seems to make a lot of sense for GM Peter Chiarelli. He can take it slowly and not burden himself now with a potentially tough contract to deal with. He has the ability to play a little wait and see.
2012 NHL Free Agency
| | |
| --- | --- |
| | Free Agency starts July 1 |
More NHL coverage
What does surprise me is that Rask's camp would be OK with it. Normally you'd excpet a bigger deal for them, especially with the uncertainty of a new CBA.
Also, this contract invites the comparison to another recently signed RFA goaltender. That would be Ondrej Pavelec of the Winnipeg Jets. Granted, the Jets did have a little pressure being put on them by the threat of a KHL offer for Pavelec, but still, the idea that Pavelec is going to have a cap hit that is $400,000 more than Rask is a reminder of how questionable the contract to Pavelec was.
Rask's worst season -- excluding his rookie season with just four games played -- is better than Pavelec's best in the NHL. This past year Rask went 11-8-3 with a 2.05 GAA and .929 save percentage. In 2009-10 when he played in 45 games Rask was at his best, going 22-12-5 with a very impressive 1.97 GAA and .931 save percentage. That's excellent compared to almost any goalie, let alone Pavelec.
I hate to pick on the Jets and Pavelec here too much, it's honestly not my intention. It's more to point out that I was actually expecting a bigger deal for Rask after seeing what Pavelec was given. Based on the going rate, this seems like a really good deal for the Bruins. And for Rask? Hey, that's a mighty big raise from the $1.5 million he made last season.
For more hockey news, rumors and analysis, follow @EyeOnHockey and @BrianStubitsNHL on Twitter and like us on Facebook.
Pittsburgh also has been linked to Matt Duchene and could be in the mix for Tyler Bozak

Nashville extends its 24-year-old restricted free agent with what could be bargain numbers

Calgary forward is all for playing for the Flames, but he also likes the idea of going to...
Plans for renovating KeyArena are now also being overseen by NHL-to-Seattle hopefuls

With Leslie Anderson selling the Rockets, there is newfound hope for hockey in Houston

Pittsburgh Penguins' repeat Conn Smythe Trophy winner has more than hockey on his athletic...