Richard Sherman offered spot to play hockey with CHL team
Richard Sherman is the best at what he does in football already so one CHL team thinks he should try to conquer something else: hockey.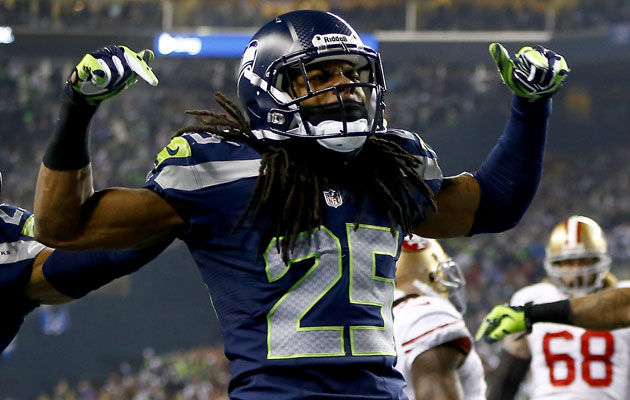 More NHL: Scores | Standings | League Leaders | Odds | Injuries | Power Rankings
As Seattle Seahawks cornerback Richard Sherman let the whole nation know after the Seahawks earned a spot in the Super Bowl, he is the best cornerback in football. He has hit the top of his profession and wanted everybody to know it.
The Quad City Mallards (Moline, Ill.) of the Central Hockey League got the message that he has climbed his hill's sport so they want to deliver a different message to Sherman: come play hockey. For the Mallards.
The Quad City Mallards of the Central Hockey League have offered Super Bowl-bound Seattle Seahawks All-Pro cornerback Richard Sherman, who has proven himself "the best cornerback" in football and "ready for bigger and better things," a new challenge via Twitter- playing hockey for the Mallards.
They continued.
"Our roster has been depleted in recent days by a series of call-ups to the American Hockey League and we would be happy to give a world class athlete like Richard Sherman the opportunity to help us combat that roster shortage," said Mallards president Bob McNamara.

The Mallards return to action Thursday night on the road against the Brampton Beast. The Mallards next play on home ice Friday, January 31 at 7:05 p.m. against the Tulsa Oilers. Should Sherman wish to stay with the Seahawks -- despite having already shown himself to be the best in football -- until the Super Bowl on February 2, the Mallards would be happy to welcome him in time for the team's February 5 home game against the Allen Americans.
That's nice of them to give Sherman a couple of weeks to decide and play the Super Bowl for the Seahawks and such, he'll probably appreciate that and that kind of good grace could go a long way in his decision making. (Or not.)
Naturally Sherman would be a two-way defenseman if he could get that nasty skating thing down, right? He's a shutdown corner now and has a history as a wide receiver and shown skills to produce points from the Seahawks' secondary. Add on a few pounds and you're on the right track.
Clearly it's just a publicity stunt just (that's working) and nothing more by the Mallards, similar to how ECHL Bakersfield offered Justin Bieber a deal. But it's fun to imagine at least, isn't it? We'd find out real quick of hockey would knock the trash talk out of Sherman as fast as promised.
S/t Reddit
Show Comments
Hide Comments
Our Latest Stories
Team Europe will be without one of their top forwards against Canada

Try not to look him directly in the eyes

Canada and Europe will meet for the second time in the tournament, this time with everything...
The Bruins have their high-scoring, opponent-agitating winger locked up long term now

The team no one gave a chance is moving on to the World Cup's championships series

Defense prospect Patrick Sieloff drew the ire of his teammates after his hit on MacArthur