Rick Nash feels good in practice but won't rush return to Rangers
Rick Nash continues to recover from an early season concussion and said on Tuesday he felt good after another practice but he won't be rushing a return.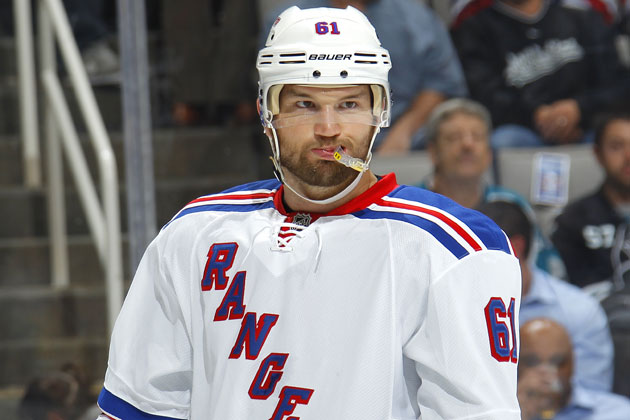 More NHL: Scores | Standings | League Leaders | Odds | Injuries | Power Rankings
Compounding the Rangers' early struggles this season was the loss of forward Rick Nash to a concussion. It came in the season-opening trip through California in a game against the Sharks when Nash was hit by Brad Stuart, a hit that earned Stuart a suspension.
Since that time, Nash has remained sidelined with post-concussion symptoms but he's slowly and surely working his way back to the ice. Nash joined teammates on the ice for practice again Tuesday and had the longest session so far since his concussion. Equally positive was what Nash had to say afterward. From Steve Zipay of Newsday:
"I'm a little slow, a little out of shape, but the important part is I feel good otherwise," said a confident and relaxed Nash.

Nash beat goaltender Cam Talbot twice in a row on break-ins during an hour on the ice, first snapping in a short-side wrister, and then, after dekeing Talbot, smoothly reaching one-handed to slide a backhander just inside the post.

"The plan is each day to do more and more on the ice and in the gym and see if any symptoms pop up," said Nash, who has scored 30 or more goals seven times. "And as we move along, just kind of work my way back into game situations. I've been in touch with the doctors the whole time, obviously, we'll keep them in the loop. It's day by day. We'll figure it out tonight and go to a new game plan in the morning."
That is excellent news for the Rangers at this point because despite the fact that the team has found its stride in recent weeks, they would love to have Nash and his goal-scoring prowess back on the ice as soon as possible.
Just don't look for Nash to rush back. There is a long way to go in this season and a long way to go in his career; there is no need to risk possibly returning too soon from a severe concussion for games in November. They will wait a few more days to make sure the symptoms aren't lingering and thus eliminate the possibility of setbacks in his recovery.
So as of yet there remains no timetable for Nash's return for the Rangers. Things are heading in the right direction, which is excellent news at this point given how quiet (and quiet usually always equals bad in concussion stories) things had been.
Nash had 21 goals and 21 assists in 44 games as a Ranger last season, his first season since being traded by Columbus.
Show Comments
Hide Comments
Preds captain has three more days to recover from a hit to the head before final begins next...

Replicating its Game 6 dominance -- everywhere but the scoreboard -- might not be easy for...

Ottawa recovers from a 7-0 loss in Game 5 to quiet Pittsburgh's offense
Series schedules, results and updates from the Eastern and Western conference finals

Out for the remainder of the postseason, Johansen is still part of the Predators' playoff...

Nashville refuses to back down despite taking fewer than 20 shots against fill-in goalie Jonathan...