Riddick Bowe says he'll KO Randy Carlyle if Leafs lose again
Riddick Bowe is actually quite the Maple Leafs fan and he's getting tired of the losses, so tired he says he'll KO Randy Carlyle if the Leafs lose Friday. He's kidding. We think.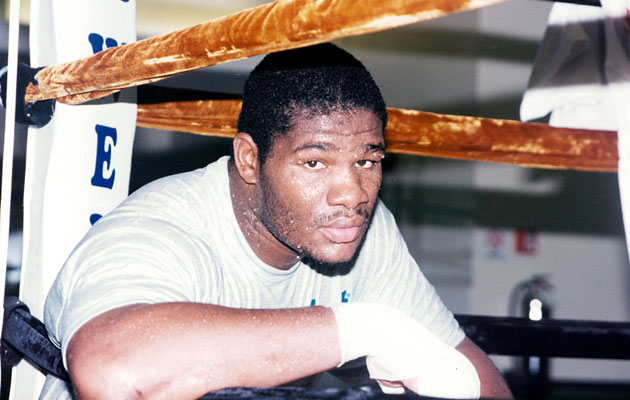 More NHL: Trades | Scores | Standings | League Leaders | Odds  | Power Rankings
As the playoffs get ever closer, the Toronto Maple Leafs are spiraling. They have lost six in a row and for the first time in a very long time, they are out of playoff positioning. Frustration is mounting, especially for the fans.
One of those fans is former heavyweight champion of the world, Riddick Bowe. Yes, he's a Leafs fan and he's getting tired of watching Randy Carlyle's team lose right now. He's so tired he's ready to do something about it.
If the @MapleLeafs lose tomorrow im going to knock out Randy Carlyle. One punch between the eyes #TMLtalk #Leafs #LeafsNation #BoweLeafsBowe

— Riddick Bowe (@riddickbowe) March 27, 2014
He's kidding, surely. We think ...
Carlyle was a pretty tough hockey player in his day but I'm not sure how he would feel about a Riddick Bowe punch to the face. My guess: Probably not well. Heck, I doubt Colton Orr would volunteer to take a punch from Bowe. Don't be surprised if Carlyle looks a bit more desperate behind the bench Friday in Philly.
Seriously though, how did a boxer from New York City become a Maple Leafs fan? Glad you asked, Bowe can explain.
If u ask how ima #leafs fan? I got a home in Toronto for 20 yrs. My heart still hurts of the bitch refs no call on Gretzkys high stick in 93

— Riddick Bowe (@riddickbowe) March 26, 2014
So he's been a fan for a while and in true Leafs form still hasn't forgotten about that Western Conference final and Kerry Fraser. Really, he has this Leafs fan thing down pat.
You better start winning, Leafs, or Bowe is coming for you.
Show Comments
Hide Comments
Series schedules, results and updates from the second round of the Stanley Cup race

Nashville had big-name fans in the house for another win over St. Louis, and Anaheim scored...

New Jersey claims No. 1 draft pick after having an 8.5 percent chance of earning the top s...
Ottawa takes a 2-0 lead over New York, and Pittsburgh does the same against Washington

St. Louis connected on one of five power plays to tie the series while Anaheim loses again...

Ottawa's defense came up big in Game 1 to beat New York, and the Penguins beat the Capitals...